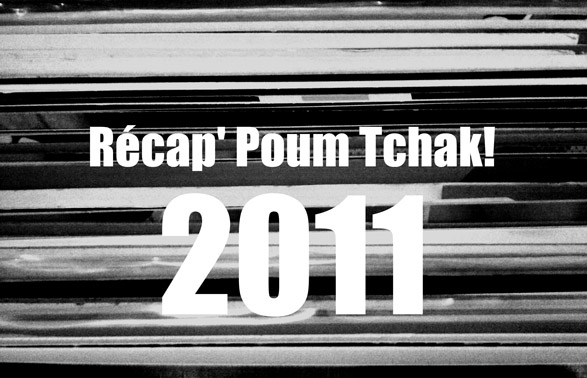 Salut à toutes et à tous ! Voici la Recap' Poum Tchak! de 2011. Ici, pas de classements, de top10, de reader-polls, de winners avec des photos plus grosses que celles des autres, non rien que du pur subjectif à la BPTchk!, sans vote ni concertation pour trouver un consus stérile et informe sur le "bilan" de l'année écoulée. Juste du feeling sur ce qui est sorti en 2011 et que j'ai vraiment le plus écouté durant ces douze derniers mois.
Une bien belle année sur le plan discographique-électronique, peut-être un poil moins puissant que 2010 avec l'essoufflement de la Berghain techno (trop de copy-cats), et du dubstep (et ses sub-genres) qu'on essaye de nous refourguer par tous les moyens, à toutes les sauces (= viol auditif = saturation). Il est à noter également qu'aucune (r)évolution musicale n'est apparue ou en train de pointer son nez. Les producteurs appliquent des bonnes formules (c'est dans les meilleurs pots… etc.), mais pas de nouveau souffle comme on l'avait vécu avec le renouveau (de la VRAIE) techno 90's dégrossie et stylisée par des pontes comme Ben Klock, Dettmann, l'équipe Sandwell District, Surgeon (et son fils spirituel Xhin), et j'en passe. Oui, le soufflet, pour reprendre l'expression du blog mnmlssgs (qui a reçu de bien stupides critiques suite à ce post plutôt éclairé), est bel et bien retombé (ou n'est pas monté, c'est selon). C'est mon impression, et aussi celle de mon entourage. Shifted (et ses alias) par exemple incarne bien cette tendance. Un ancien de la drum'n'bass reconverti dans la Berghain techno parce que c'est à la mode et intéressant niveau booking$$$, remplissant avec plus ou moins de brio le contrat musical, mais sans apporter d'eau fraiche au moulin, et au final tournant en rond sur une même formule qui s'épuise écoute après écoute (le beat caverneux, la touche "centrale-électrique", les petits effets venteux / mentos ("pshhhhhhh"), les voix graves, l'ambiance dark…). On peut également citer le cas Tommy Four Seven, qui, grâce à Chris Liebing et à ses réseaux (ceux pour qui la limite entre la promotion, le journalo-blogging et le commerce n'existe plus), a persuadé des scribouillards de pacotilles de nous pondre des top-reviews et interviews à gogos sur ce "nouveau phénomène techno" avec la sortie de son chiantissime album (RA qui "découvrait" avec émerveillement que l'on pouvait faire de la musique avec des field recordings, wao, aux chiottes Herbert !). Et malheureusement ça a marché. J'ai rencontré des dj's (de renommée internationale, que tout le monde connait) qui avaient été déprogrammé un peu à la dernière minute pour être remplacés par "T47" car c'était plus "vendeur" niveau line-up pour les organisateurs… Dommage, car des nouveaux producteurs comme Marcelus se retrouvent souvent assimilés à ces copieurs qui ont le sampleur facile, alors qu'eux apportent une subtile et parfois ingénieuse nuance au genre (néanmoins quand on écoute Marcelus – ou d'autres comme Szare par exemple – à l'aveugle dans ce flot de singeries, on sort d'un coup de sa somnolence pour reprendre conscience et faire juste "wao, c'est quoi ce track ? C'est boooon").
Heureusement il y a toujours des producteurs incroyables pour nous sortir des choses stupéfiantes, comme ce Man or mistress de Levon Vincent, Shed pour son remix de Basic Soul Unit ou son nouvel EQD (005), et bien sûr l'osni (objet sonore non identifié) venu de la planète Gesloten Cirkel et son Yamagic qui porte vraiment bien son nom (une signification positionnée entre quelque chose de chamanique et de magique). Brillant. Plus tous ces disques de 2011 qui sont passés inaperçus et que l'on ne découvrira que l'année prochaine ou bien plus tard.
Un petit mot niveau house, avec une prédominance pour la qualité et l'originalité que j'attribue à la nouvelle scène New Yorkaise (Jus Ed, Fred P, Levon Vincent, Jennifa Mayanja, Dj Qu, Joey Anderson…) toujours aimanté avec les jeunes et moins jeunes représentants de Detroit comme Omar S, Kai Alcé, Marcellus Pittman, Kyle Hall, Big Strick…
Enfin, nous avons eu droit à d'excellentes rééditions (avec un nouveau mastering et des vinyles tout neuf, hummm). Virgo Four, Gene Hunt, John Beltran, Reel by Real, les compilations Back in the box d'NRK qui continuent leur chemin, tout comme les labels du magasin en ligne Decks, LFO (Warp qui represse en vinyle… il y a de l'espoir pour la suite !), Drexciya (!!!), Carl Craig… C'est toujours intéressant dans des périodes un peu moins fertiles niveau qualité musicale (parce qu'en quantité – de merde – c'est vraiment l'angoisse), de voir que les amateurs de bonnes musiques aiment à se replonger dans des productions passées, un peu oubliées, et devenues pour la plupart inabordables sur le marché de l'occasion.
NB : message personnel pour les patrons de Warp : ils sont où les nouveaux albums de Boards of Canada et Aphex Twin. Hein ? Ça fait cinq ans qu'ils doivent sortir. On va les entendre en 2023 ? Allez quoi un petit effort pour nous, please…
2011
Le morceau qui m'a le plus retourné :
Gesloten Cirkel – Yamagic (Moustache Techno)
Dans la catégorie grosses bombes :
EQD – Equalized #005
Levon Vincent – Man or mistress (Novel Sound)
Joy O – Jels (Hotflush Recordings)
Steffi feat. Virginia – Yours (Ostgut Ton)
Cuthead – The sinner (Uncanny Valley)
Marcelus – Life cycle (Deeply Rooted House)
Skudge – In between (Skudge Records)
Cosmin TRG – Izolat (50weapons)
Mike Parker – FWD – Donato Dozzy remix (Prologue)
The Analog Cops – Why you love me (Restoration Records)
Legowelt – U can fly away from the hood (Legowelt 001 LP)
Basic Soul Unit – Soulspeak – Shed remix (Dolly)
Mon 4-titres préféré :
Ryo Murakami – Underworld (Baud)
La pochette la plus incroyable (à regarder en version gatefold vinyl) :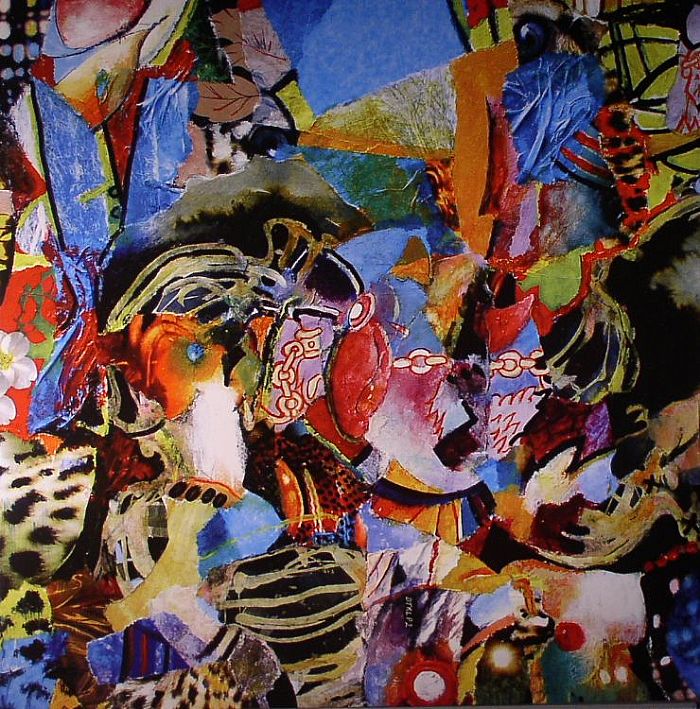 Surgeon – Breaking the frame (Dynamic Tension)
*mention spéciale également pour les peintures abstraites réalisées par Mike Parker pour ses sorties sur son label Geophone https://www.discogs.com/artist/Mike+Parker
La compilation la plus pure (en oxygène) :
John Beltran – Ambient selections 1995 – 2011 (Delsin Records)
Les titres non dance-floor qui ont eu leur petit effet :
La Sangre Iluminada OST //
Los Angeles Negros – Como quisiera decirte – Murcof mix (Infiné)
Pablo Fierro – Nights in Harlem (Elevation Recordings)
Nico Gomez, Emila Rey, John Baroskki – Drops (Infiné)
Tropic of Cancer : A color (Blackest Ever Black)
Shackleton – Dead man, death dub remix by King Midas Sound (Honest Jon's Records)
Mon coup de coeur féminin  :
Grouper
Les albums que mon voisin a le plus subis :
Lucy – Wordplay for working bees (Stroboscopic Artefacts)
Sandwell District – Feed forward (Sandwell District)
Morphosis – What have we learn (Delsin / M>O>S / Morphine Records)
Madteo – Timesmithing (Meakusma)
Austin Peralta – Endless planets (Brainfeeder)
Tin Man – Perfume (Salon Records)
Les djs qui ont fait imploser mon système psychique et physique :
Marcel Dettmann
Delta Funktionen
Roger 23
Break SL
DVS1
Xhin
Trias (Ancient Methods)
Le concert qui m'a fait chialer :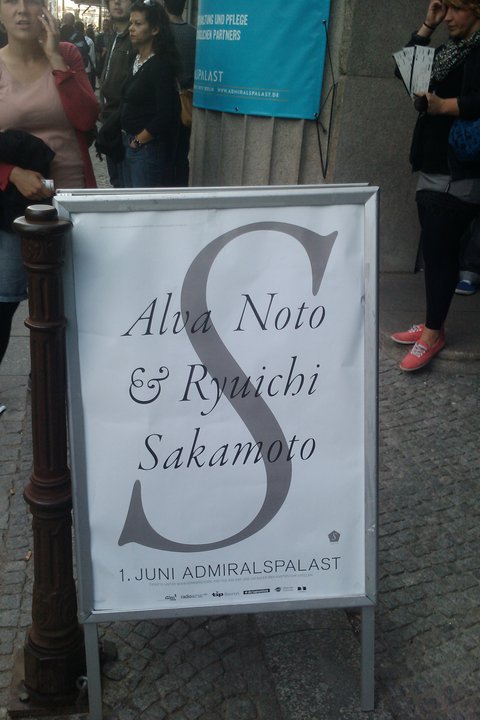 Alva Noto + Ryuichi Sakamoto : 'S' Tour (1er juin / Admiralspalast – Berlin)
Le live le plus champagnisé et déjanté auquel j'ai assisté :
Nôze au Panorama Bar
Le seul cd que j'ai acheté :
Atheus – Compile (Silent Season)
Le seul maxi dans la veine dubstep / neo UK Garage que j'ai acheté :
Dj Rum – Turiya (2nd Drop Records)
Le morceau que j'ai eu honte d'aimer :
Art Department – Living the life  – Aba Therapy mix (Crosstown Rebels)
Le disque qui m'a troué le porte-monnaie :
The Other People Place – Lifestyles of the laptop café (85 euros / Mint)
Le clip qui m'a donné envie de prendre plein de photos :
Mount Kimbie – Before I move off (Hotflush Recordings)
Le club qui m'a le plus charmé (sans citer le Berghain, sinon c'est trop facile) :
Le Tresor (dans la salle éponyme)
Les albums que je n'aurai pas trouvé à temps pour en parler en 2011 :
Oneohtrix Point Never – Replica (Software Records)
Alva Noto + Ryuichi Sakamoto – Summvs (Raster-Noton)
//// End of transmission 1111
.
.