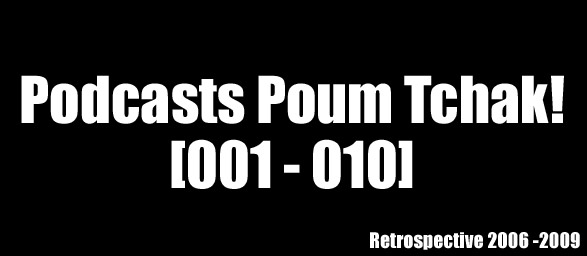 Before uploading the 11th Podcast Poum Tchak! in a few days (which will certainly be considered as one of the most interesting podcast of 2009 – only made with exclusive and unreleased material), it's time to go back on the first ten mixes taken from the story of Boing Poum Tchak!.
behind a lovely thing (April 06)
The first "official" mix made in spring 06. I did few dark electro-house mixes with deep and melancholic atmospheres before this one for Boing Poum Tchak!, but I never uploaded them on the web, I can't exactly remember why. Here is an ambiant mix prepared after a long reflection over some months. I was and I'm still very happy when I'm listening to it.
Letters and Numbers (Summer 06)
At the same time I launched the website of  Boing Poum Tchak! (around October 2005 / Flash version) I met a young mate, which was crazy about electronic music (dance side), starting to post his mixes on blogs, and playing in some small places in Paris. He worked as reviewer for about a year or more (his reviews are in the second issue of Boing Poum Tchak! – paper version –  and still here of course) before stabbing me in the back to join Get The Curse :-). Now he works for the Social Club in Paris and you maybe know him as Micky or Mikhail. He made the second mix ("123") here.
The dwxxlng theory (December 06)
I still love the first track composed by Kollektiv Türmstrasse. I really really liked their debut material from their free album on their netlabel, and their first two ep's. I gave up when they turned minimal… following the wave ! Shiiiit :-). There are also good moments in that mix, like the transition between the electro-noise-power of Digitalism remixed by I don't knowwhoexactly, and the freshness / ultra-deepness of Vince Watson's track. Not my favorite mix but it remembers me some good feelings.
Quarion (June 08)
Wow. What happened between December 06 and June 08 ? Nothing really. I didn't feel the need to buy a lot of stuff, and lost the vibes for mixing. It was a very harsh period for electronic music lovers like me who never understood the fucking trend around minimal shits. Fuck ! Why club music got so boring ?? And everybody made the same track that his neighbor ? I don't really like this soulless period, where people lost their minds… anyway. We are back now :-).
Why Quarion as the first guest ? He released some good stuff last summer, and I wanted to let artists express themselves more than just with simple words on an interview. I never ask for a mix for throwing it up on the net like that. It's always a reflection with the artist, around an interview about him, his vision of his music, and some ideas about the evolution of (electronic) music and its industry to try to understand our world a bit better.
Break SL (August 08)
Yeahh. Sebastian is a very cool guy. Young and talented. Just check out the tracklist of his mix. He played music from artists that a lot of people want to play and go to see in clubs now (well in fact SOME people ;-). He's not only a super dj with a great selection, but also an artist who has released one of my favorite track last year, the magnificent Be Strong (mislabeled as "Witness"). He's releasing an album in May, and you'll get hear from him soon here… ;-).
Arne Weinberg (October 08)
This guy is very kind. And we can say he is the boss of the genre we call "neo-detroit techno", a kind of sweet techno from the origins with a lot of melodies and deep sounds inside this music. I was very glad he accepts to take time to chat with me, and to give a very good mix, from electro (humm !), old-school techno to modern vibes representing by Shed or Omar S.
Nicolas (January 09)
During a period I was looking for reviewers and Nicolas from Brussels sent me some stuff. I liked his background and his writings, and I said ok ! I don't always agree with his selections, but I like how he explains why he appreciates some records. And he's a very good dj too (playing in a lot of parties in Brussels).
Tactile Soul (January 2009)
I contacted him just after listening a webmix he made under his Agent2 moniker. A guy from London who organizes and plays in some good parties with people like Convextion, Surgeon, $tinkworx… And it was also interesting to have an opinion not from an artist who composes music, but just a good dj who have a day-job, and dedicates all his free-time to music, and tries to do things to keep alive and spread the good vibes.
Jean-Baptiste (February 09)
An other guy who get in touch with me, in December last year. Thanks to Roger 23 he met at a party in Germany, who advices him to contact me, because it could works together. And here we go ! Jean-Baptiste is one of the last real vinyl-digger, with excellent tastes and great feelings with the music.  If I was Omar S I would say that his mix is a "deep fucking shit ! You know what I'm saying ?" :-).
behind a lovely thing 2 (March 09)
Spheres and lost drones in an endless night. I don't like to talk much about it. Just listen and wait. Things are coming…
And many thanks to you, everybody.
Pierre-Nicolas Mader
Boing Poum Tchak!