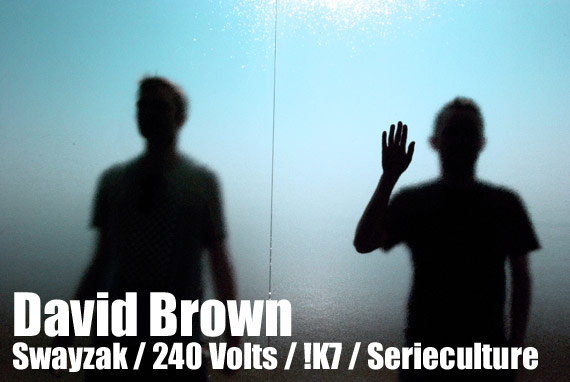 David Brown is one of the two guys (with James Taylor) who's running Swayzak since ten years now. After fantastic albums as the incredible minimal dubby tech-house Snowboarding in argentina (1998), the 80's vocal-pop Himawari (2000), the big electroclashed Dirty dancing (in tribute to Patrick Swayze's Dirty Dancing movie ;-), and the last one Some other country, David Brown is launching a new label with the dj and friend Roger 23 named Serieculture. We know all that the Swayzak's lives are always amazing and improvised, but we know less about the dj-side, even if they have released two fantastic cd-mixes for Fabric and Goovetechnology in the past few years. So, here we go for a dj interview.
How many records do you buy each months ?
Usually around £100 a month I spend on vinyl, that's 2 or 3 trips to Phonica, Rough Trade and Selectadisc… But I don't dj that much so I should not buy so many… But I do cos I enjoy the listening !
Do you receive a lot of promo-copies ?
No I don't ask for them. I used to get more but now it's mainly digital promos and that just doesn't turn me on ! I prefer to buy if i like it… That way we support the artist and the store. I hate djs who don't support the artist and download from filesharing sites. They are killing the music scene by their greed ! If you are being paid to play then you should repay. It's karma !
I met Steve Bug one day in Berlin and I thought perhaps he plays digitally now, but he said every Wednesday he goes to buy vinyl. Thats cool ! I was very happy… Too many djs playing digital ! I even been in clubs where they don't have turntables !!!
Your favorite place to buy records ?
Actually it's Rough Trade. I been going there for err nearly 20 years (since i was 5 – honest) and they often have records that Phonica doesn't get… Phonica is good also. Selectadisc quite good, and sounds of the universe quite cool music but miserable staff :-), I walk out of shops sometimes if they piss me off. But it's hard cos I expect a good service, these people are needing customers. But sometimes they are so rude !!!
Maybe do you buy records when you're in tour around the world ?
Yes best place is Amoeba, San Francisco : huge record store next to golden gate park ! I love it in San Francisco… Roger 23 and I found a great store in Chicago, and hour out in the suburbs and they had amazing old house records all for 50 cents !!!!! I bought Jeff Mills rare house project servo unique for 50 cents. Its selling for 100 euros on discogs :-). Also in Italy we like to check out the italo disco stores.

The better places in the world to play as dj ?

Sub Club (Glasgow) – Always mad crowds there ! Home town but they don't know I'm scottish :-).
Babylon (Istanbul) – Been one of our favourite places to dj for last few years. Really cool people, amazing city ! Great fun.
Unit (Tokyo) – Japanese are mad ! They are saiko ! James (Taylor) and I played 4 hours live and djed first time there.
Fukui – Even more saiko… than Tokyo. People screaming !
Basso (Berlin) – As I guess it's the most cool place in the universe, totally underground illegal vibe, bad broken turntables and mixer, lame sound but great beer and great people ! The cops come and they go again. A proper party !
Watergate (Berlin) – Always mayhem.

What are the genres you like to play at this time ?
Lots of dub techno and meenimal, italo disco, 80s pop and old school deep house, deep techno, dub, dubstep, step dub, ragga, dancehall, ambient, and err spandau ballet !
For mixing : rather cds or vinyls ?
I am not a brilliant mixer of vinyl, but I like to play this over cd as it feels and sounds better. Cds are too harsh, too painful to hear in a club. Once we were in Fabric and the dj was playing cds so loud I felt sick, it was like torture… My teeth were shaking :-(.
Do you plan to release another mix-cd soon ? Following the amazing Fabric mix and Groovetechnology ?
Yes we would like to, perhaps we will make our own one, more underground. But people don't buy so much anymore, so it's best to give it as a download. It's strange Fabric cd is more famous than our own albums ? But thats cool we put LCD Soundsytem on there before they were famous !!!! Check out the first track we play – Negativland "Michael jackson" over a techno track. 3 years later MYLO does the same and it's a hit record but he calls it his own track… and makes $$$ . hmmmmmmmm
What are your plans for 2008 ?
Enjoy summer, make some hits, buy some new monitors, play in Paris, get a job, get a life, star in a movie :-)… and launching a new label from myself and roger 23 named Serieculture :
We working on first release of 500 copies right now ! Some new artists coming through, and we want to make each release 3 or 4 different artists. Some french kid on the first 12″… The release date is not final yet but should be finalized shortly ! We are also re-issuing our first album "Snowboarding in argentina". Due august I think :-).
You can also check out his playlist here
Or his live set with James Taylor and Richard Davis at the Rex Club (video) here