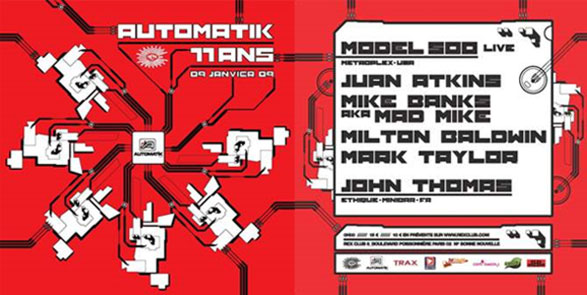 Historique. Pour son onzième anniversaire Automatik, la soirée du vendredi au Rex, avait mis les petits plats dans les grands pour nous offrir un concert exceptionnel avec ceux qui ont inventé la techno, là-bas, il y a presque 30 ans déjà, à Detroit. Derrière Model 500 se cache Juan Atkins "The Originator", le créateur, celui par qui tout a démarré en 1981, accompagné sur scène d'un trio machiniste et synthétique, dont notamment l'une des figures incontournables du mouvement, légende vivante et symbole d'une techno engagée, militante, et matrice d'innombrables genres électroniques : le fondateur d'Underground Resistance, Mike Banks alias Mad Mike, à visage découvert.
Detroit in the house !
Juan Atkins
Durant une heure dix, la formation nous a proposé quelques-unes des pièces techno et proto-techno les plus célèbres, imaginées au milieu des années 80 par Mr Atkins, dont beaucoup de titres sortis sous son alias Cybotron (notamment le premier morceau techno de l'Histoire Alleys of your mind).
A bientôt 50 ans, Juan Atkins semblait ragaillardi depuis son passage au Batofar fin 2007 où il avait tourné une interview pour l'émission Tracks
Enfin mention spéciale pour la prestation de Mad Mike aux claviers, improvisant parfois des envolées gospel-jazz de folie ! (voir vidéo 2)
Liste des morceaux joués :
01 Cosmic car
02 ?
03 Night drive (time space transmat)
04 The chase
05 Starlight
06 Game one
07 No ufo's
08 Cosmic raindance
09 Alleys of your mind
10 Clear
(rappel)
11 Technicolor
Vidéos :
Clear
Game one

Et bien sûr un grand merci à Stéphane pour la captation en quasi-totalité ! Thanks a lot man !!