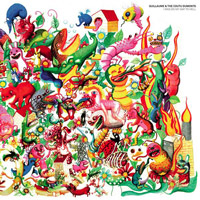 Montréal, Canada. Le pays des élans est au centre du renouveau de la scène house avec Guillaume & The Coutu Dumont, l'un de ses protagonistes les plus affairés. Auteur de morceaux furieusement groovy, souvent jazzy, à l'hypnotisme latent et à la modernité imparable, c'est sur Circus Company qu'il délivre ses nouvelles productions au funk lourd teinté de gospel. Qui a dit que l'esprit de James Brown était mort ?
Une évocation parfaite de ce que peut-être la house aujourd'hui.
I was on my way to hell est une évocation parfaite de ce que peut-être la house aujourd'hui. Une rythmique incisive et entraînante, proche des boucles originelles de Chicago, une voix de prédicateur du plus bel effet, et surtout une ligne de synthé à consonance vintage en variation perpétuelle. Bref, un groove retentissant qui a de quoi envoûter le plus ennuyeux des dancefloors. C'est en effet là que toute l'expertise de Guillaume & The Coutu Dumont se ressent, ayant un passé d'ancien musicien au sein de formations funk et jazz. En tout cas question musique électronique, il n'est pas en reste!
Directement issu des Mille et Une Nuits, Can't argue with silence est une ode au groove lascif du Moyen Orient. Un peu comme si vous incarniez Aladdin à la recherche de sa bien aimée, déambulant au hasard des ruelles de la cité, bercé par la douce mélopée provenant de l'orchestre du palais. Mais même si l'ambiance y est cotonneuse à souhait, le roulement de la basse vous rappelle bien vite que vous n'êtes pas là en touriste, il faut encore la sauver, la princesse !
Encore un sans faute de la part du canadien…
(Nicolas)
I was on my way to hell