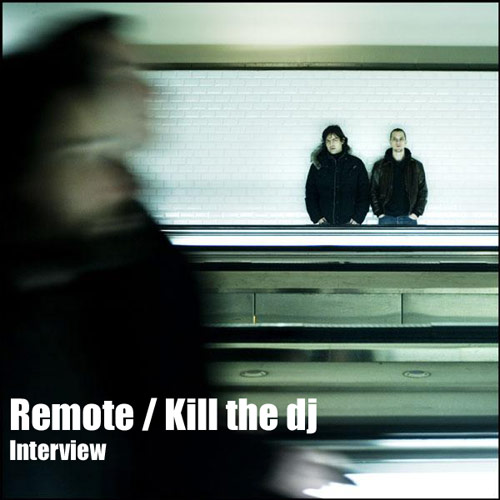 Cette semaine est (enfin) sorti le premier album du duo français Remote. Boing Poum Tchak! les avait déjà suivi pour leur premier live au Pulp, ainsi que pour leur premier maxi Get a real job, il était donc logique de revenir vers eux pour leur premier long-format sur Kill the dj : la petite bombe dark italo / electro techno moderne Dark enough. Décryptage en règle des dix hits underground potentiels par Seb Fouble et Eric Guillanton, pour qui "la musique électronique n'est [décidément] pas faite pour les spotlights".
Black fi
C'est pour commencer doucement, avec de la cinétique, ça pose une atmosphère. Il y avait pas mal de possibilités pour le track listing, c'est celui ci qu'on a préféré. 0n s est rencontrés en 2003 pour bosser sur Henry Goes Dirty, notre projet rock. On est assez complémentaires et on aime les mêmes choses. On a naturellement décidé de bosser ensemble. Black fi ça peut vouloir ne rien dire, ce sont les deux mots assemblés qui sonnent entre eux.
Teaser
C'est l'un des premiers morceaux qu'on a fait sous le pseudo Remote. A la base c'était vraiment un teaser pour une soirée , un track de 30 secondes. Le truc marchait plutôt bien donc on a décider d'en faire un maxi (Get a real job). On était restés en contact avec Kill the dj donc voilà, on l'a fait chez eux. Pour le succès, évidemment on s'attendait à mieux mais bon… Ça reste l'un de nos meilleur track.
Bullit
Le titre c'est une private joke entre nous. Pour ce qui est des influences, on est pas trop clients de trucs happy, guillerets, du coup on écoute pas mal de choses des années 70/80, dans des styles différents, mais toujours un peu sombre.
Veron
On a fait ce track a peu près en même temps que Sinister boogie. C'est un peu le même processus de création. En général on part d'un groove de basse qui nous plait et on voyage autour en essayant de ne pas trop charger, ne pas rendre le truc indigeste. On essaye d'aller à l'essentiel. Ce track en est un bon exemple.
Dark enough
Ce track reflète assez bien notre univers (d'où le nom de l'album ). Le texte illustre bien l'ambiance du track, tendu, un peu claustro.

Berliner
C'est un de nos tracks les plus perso, les réactions sont assez mitigées. Pareil que Dark enough ou Sinister boogie pour le processus. Surement le track le plus difficile d'accès mais une fois dedans il raconte une histoire… "il faut l'écouter fort…"
Allow steady
Ce track a été compilé par Oliver Huntemann, ambiance acid, une vieille recette… qui marche encore.
Sinister boogie
Le texte parle de lui même. Ça parle de producteurs vereux et d'embrouilles malsaines. No comment sur Citizen records (où le titre est sorti l'an dernier). On est content de sortir notre album sur Kill the dj
Hard stick
Notre dernier maxi remixé par Danton Eeprom et Ivan Smagghe (sous le pseudo La Horse), ainsi qu'un track inédit "Ghost" qui devait être la face b du Sinister boogie à l'époque où il devait sortir sur Kill the dj. D'ailleurs ce disque avait même été chroniqué dans Trax.
Microdrive
Il fallait bien qu'un titre soit placé en dernier, c'était celui-ci. On essaye de faire une musique personnelle, je pense que ce track en est un exemple.
On prévoit maintenant de jouer notre son en live et continuer à sortir des maxis en préparant un nouvel album.
Video clip de Black fi :
Prochaine actu : un remix pour la sortie en juin du maxi de Comité Central (mort aux jeunes records)