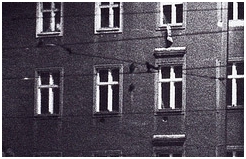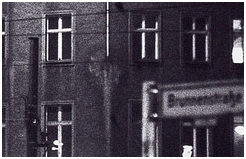 Each months since a while, great Berlin producer and developer of the fantastic Ableton Live software, Monolake dives into his archives to give us a track for free (and sometimes more). With this unreleased material, Robert Henke (his real name) explain the context and the time when he produced this music and how he made it. Really interesting for understanding how things happen in the mental horizon of a (so talented) artist.
In January, Robert introduces us into an ambiant cinematic and worrying atmosphere, with mysterious, dark and very sad moods. Throughout the 30 minutes of the Fragment endlos track, the hope will finally never comes. Around few piano notes in a loop mode, things arrive and pass away in a world which remembers Europa / Zentropa, dark movie of Lars Von Trier (it tells the story of a young, idealistic American who hopes to "show some kindness" to the German people soon after the end of World War II. In US-occupied Germany, he takes on work as a sleeping car conductor for the Zentropa railway network, falls in love with a femme fatale, and becomes embroiled in a pro-Nazi terrorist conspiracy / Wikipedia).
Recorded in Berlin, in 1992, "this is a very personal piece for me, created in a time where I felt quite dark and lived in an appropriate environment" Henke says. "I just had moved from West-Berlin, Neukoelln, to the east, to Prenzlauer Berg, which at that time was not the expensive hippster neighborhood it is now, but the very opposite. I lived in a small place on the ground floor in a backyard, with a coal oven and a toilet outside the building… It was the end of winter, cold, unfriendly, and very dark. Pretty much like on the pictures above".
You can download it, and find some other works here too :
http://www.monolake.de/downloads/free_track.html