[En] Tactile Soul [bptchk! 008] + Interview
January 30th, 2009 by Pierre-Nicolas Mader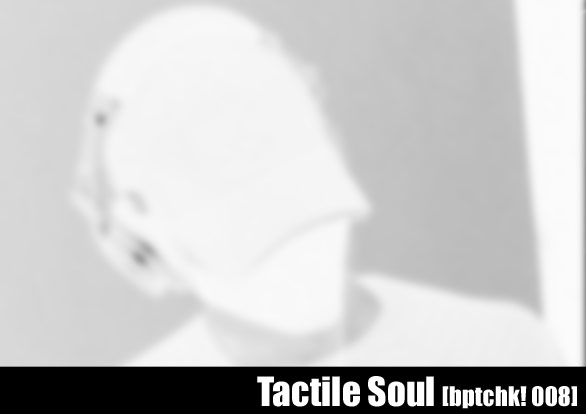 After a long time of very little inspiration, I believe that there is some great records being made at the moment, a lot of them are reminiscent of old detroit techno, which is the style that first caught my attention a long time ago. I think it is a very healthy time for techno production, so buying records is getting easier again.

Tactile Soul
If you jump to Boing Poum Tchak! from time to time, you maybe have seen few months ago, a short article (in french) about agent2 alias Tactile Soul, dj from London who has played with great guests like Convextion, Surgeon or $tinkworx. Here, he did a cool mix for us, with some good and personal detroit-techno / house and electro records of the moment. But first, learn a bit more about him and what a typical involved guy in the scene can expect for 2009.
Who are you ?
Hi, my name is Lawrence and I play music for Rebel Intelligence under the names "Tactile Soul" and "agent2".
What is Rebel Intelligence ?
Rebel Intelligence is a collective of dj's and producers from London who all share a love for quality electronic music. Our first party was 1998 in a warehouse in London Bridge as a reaction to the lack of decent music for us to go out and listen to. Since then we have had the pleasure to play for many people both here and abroad for promoters and clubs that share our passion for the music.
Best memories ?
I have a lot of good memories through dj'ing. Mostly travelling and meeting people. Opening up the main room at the BLOC festival last year was a highlight, or maybe playing before Convextion at one of the Bleep43 parties.. I feel lucky to have had any opportunities through music really, so they are pretty much all good memories.
What does electronic music and techno mean for you in 2009 ? (and what do you expect for this year ?)
Thats a hard question. What I hope is that the current techno labels that I like will continue to release quality music and in doing so encourage other people. Its so hard to make a record now as very few people are buying them, but I just hope labels can survive. With techno and electro there is very little money involved so its a labour of love for most people. I have alot of respect for the labels who are making the effort to keep music fresh, and to get it out into the shops for people to hear.
As far as going out in the UK, I think 2009 will show yet again that some of the smaller nights are where you will find some of the best music. Look out for parties like Bleep43, Plex and Scand in 2009, as these are the people who consistently put on great nights with a mix of both international and local talent. And of course you have BLOC which just seems to get bigger and better every year.
So I am hopeful  for 2009 that good music will be released, and there will be some good nights to go and hear it at. I am also visiting Berlin in May so I will be interested to see what is going on there, as there is currently alot of good music coming from that city.
Your plans for 2009 ?
This year is going to be quite exciting for us as we have our first release on the label coming out around february. Its by one of our crew Matt Whitehead and we're pressing up vinyls right now. We spent alot of time with the mastering and production quality and we're really happy with how its sounding on the test presses. Hopefully it will be the first of many releases on the label. Also we have our residency at BLOC again in March which as always I am looking forward to. Dask is playing for Bleep43 in february and I have another residency starting in april so its looking quite busy so far. Its just nice to have the opportunity to go out and play records to people.
How did you work on the mix you've made for Boing Poum Tchak! ?
The mix was recorded on decks. As for track selection I wanted to pick records that reflect some of the newer techno that I've been buying and listening to. After a long time of very little inspiration, I believe that there is some great records being made at the moment, alot of them are reminiscent of old detroit techno, which is the style that first caught my attention a long time ago. I think it is a very healthy time for techno production, so buying records is getting easier again. I also wanted to include some electro as it is something very close to my heart, but good new electro is alot harder to find in my opinion.
A last word to say ?

Thanks for taking the time to listen, space is the place…
—
[Tactile Soul – bptchk! 008]
[audio:http://www.boingpoumtchak.com/mixes/Tactile_Soul–Boing_Poum_Tchak_DJ_mix_008_January_09.mp3]
Erell Ranson – Sense of our life – Arne Weinberg mix (myself)
Patrice Scott – Atmospheric emotions (sistrum recordings)
Rolando – Where are you ? (delsin)
Civil Mod – Einfacheit gewinnt (ornaments)
Sascha Dive – Deepest America (ornaments)
Dj qu – Air's force (semesters)
Andreas Kauffelt – Im hotel (aural satisfaction)
Parrallel – Technique (a.r.t.less)
Pacou – Cryo (casch)
Sync 24 – We answer (cultivated electronics)
Time Light Curve – Multipole vector (aw recordings)