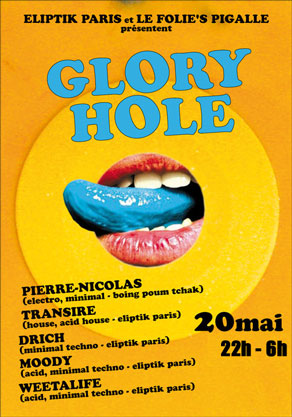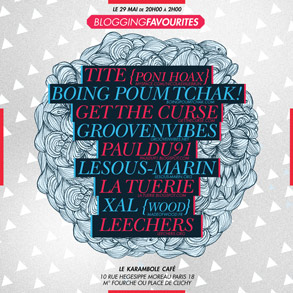 Chers lecteurs, chères lectrices, amis (virtuels ou non),
Je vous propose en ce mois de mai deux évènement auxquels j'apporterai ma modeste contribution musicale, et ce dans des registres un peu différents.
Première soirée, jeudi 20 mai. Club : le Folie's Pigalle (Place Pigalle à Paris). Au sein de l'association Eliptik Paris qui organise pour l'occasion une nuit orientée Techno 90's, je proposerai un petit triptyque Berghain / Deep-Techno avec une pointe Acid.
Et enfin samedi 29 mai, vous avez le choix entre soutenir Jessy Matador à l'Eurovision, "l'espoir" qu'on nous a trouvé cette année pour ne pas finir dernier (mais au moins avant-dernier pour l'honneur), OU assister à une soirée électronique variée au Karambole  Café, également dans le 18ème arrondissement de Paris. Je m'y trouverais entouré de K!amarades bloggueurs pour un back-to-back géant jusqu'à deux heures du matin (et oui l'Eurovision sera terminé et peut-être Jessy Matador… bon ok !). Musique plus expérimentale et disques inattendus seront de mise pour ma part ! See you there, and K!eep the vinyl alive !
Toutes les infos :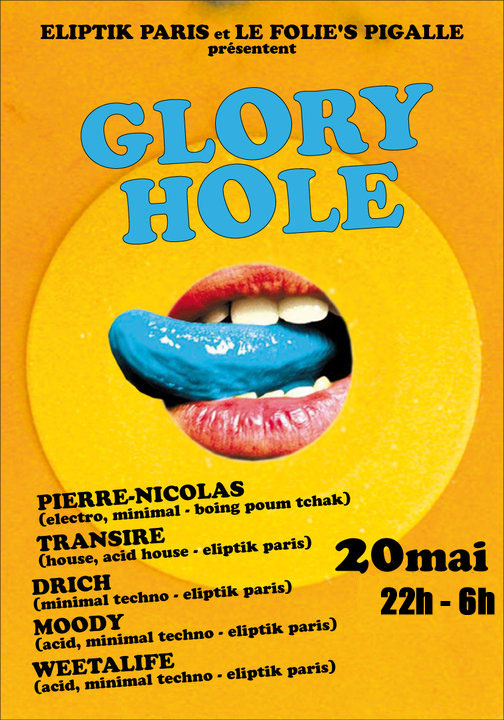 Eliptik Paris envahit le Folie's Pigalle pour une nuit placée sous le signe de l'acid house et de la techno des 90's : Une déferlante de disques à l'ancienne, histoire de se remémorer ces sons qui ont fait danser toute une génération…
20euros + 1 conso gratuite
ou 10euros + 1 conso gratuite sur présentation du flyer avant 1h
| | |
| --- | --- |
| Heure de début : | jeudi 20 mai 2010, à 22:00 |
| Heure de fin : | vendredi 21 mai 2010, à 06:00 |
| Lieu : | Le Folie's Pigalle – 11 place Pigalle, Paris 18 |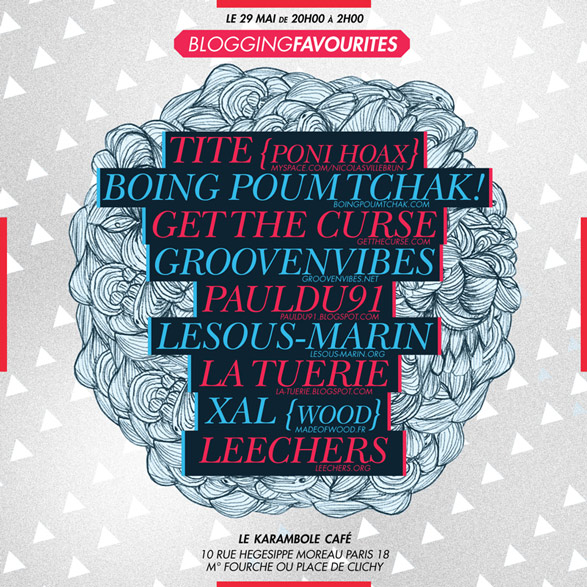 Quoi de mieux pour finir ce mois de mai qu'une soirée avec ce qui est certainement la crème de la crème des blogs en matière de musique électronique.
Un maxi djset toute la soirée en back to back avec :
Boing Poum Tchak! (https://www.boingpoumtchak.com)
John de Get The Curse (http://www.getthecurse.com)
Groove'n'vibes (http://www.groovenvibes.net)
Le Sous-Marin (http://www.lesous-marin.org)
Pauldu91 (http://pauldu91.blogspot.com)
La Tuerie (http://la-tuerie.blogspot.com)
Avec un invité de marque:
Tite de Poni Hoax (http://www.myspace.com/nicolasvillebrun) qui en plus de participer à la soirée nous présentera ses influences entre 19h et 20h
Leechers (http://www.leechers.org) sera en live et Xal (http://www.madeofwood.fr) fera une installation visuelle
| | |
| --- | --- |
| Heure de début : | samedi 29 mai 2010, à 18:30 |
| Heure de fin : | dimanche 30 mai 2010, à 02:00 |
| Lieu : | La Karambole |
| Adresse : | 10, rue Hégesippe Moreau |
| Ville : | Paris, France |