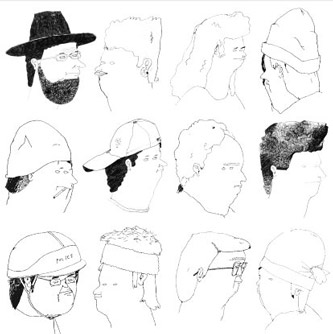 Chers lecteurs (et chères lectrices – non, le milieu macho de la techno nous vous oublie pas :-),
Je voulais vous glisser un petit mot à propos de ce qui s'annonce comme l'un de mes gros coups de cœur de la rentrée : la nouvelle compilation Smallville – And suddenly it's morning. Totalement sorti du marécage minimal (ouf !) le premier various du cousin de Dial expose une densité sonore assez excitante, entre vieux routards (Lawrence, Move D, Lowtec, STL) et petits nouveaux pleins d'espoir (Christopher Rau – véritable révélation cette année -, ou encore Julius Steinhoff, l'un des boss de Smallville). C'est parti.
On ouvre le bal sur une petite perle sucrée signée Julius Steinhoff, ultra-grillée par son sample du Speedboat de Swayzak, mais diablement bien utilisé tout au long d'un track deep légèrement catchy, un peu nostalgique, très classe avec ses petits coups violons à l'ancienne assez discrets et son arrangement serious.
Julius Steinhoff – Something like wonderful (extrait)


Un des autres temps forts de cette compilation est le morceau en provenance d'un duo désormais incontournable dans l'univers électronique deep-minimal (au sens premier du terme), Move D & Benjamin Brunn. On retrouve l'atmosphère rafraichissante et abstract qui avait façonné leur album Songs from the beehive, toujours orienté autour de jams constructifs et hédonistes. Cool !
Puis on se penche sur le cas Christopher Rau (accompagné par un certain Bon*), pour un titre qui rappelle son track Ne travaillez jamais, sorti sur le Dérive 001 (ultime bande-son pour les sunday-mornings lorsque le soleil se lève) avec un vieux sample (moins guinguette que sur le morceau précédent), sorte de slide ascendant en mode low-pitch d'un xylophone, répété à l'excès et sans variation. Hypnotisme (neo-)vintage de mise, que l'on entend pas tous les jours et super intéressant !
*qui n'est autre que Jacques, le patron du magasin Smallville à Paris !
Bon & Rau – Cloverleaf days (extrait)


Ahh avant de terminer par STL, Dimi Angélis & Jeroen Search nous la jouent early 90's avec leur clin d'œil à Mike Huckaby sur Our life with the wave (nb : le track d'Huckaby sorti en 2007 se nommait My life with the wave). Au menu, un kick techno old-school extirpé en mode effortless d'une TR-909 (comme d'ailleurs toute la rythmique), avec une bonne basse un peu flat mais correcte, abstract et bien bouclée, autour desquels viennent se greffer des petits échos deep, des accords techno-house dubby un poil mélancoliques, et cette superbe nappe (pourtant toute simple) qui monte, et qui monte sur la fin comme une espérance déterminée que rien n'arrête. Du bon boulot.
Et chose promise… Le dernier track réserve la part belle à notre ami Stephan Laubner que l'on ne présente plus. Neurotransmitting clouds on the secret freeway renoue avec la lignée Somethingnienne, d'où il s'était éloigné le temps d'un énorme maxi sur Smallville pour une proposition orientée dub-techno. On retrouve comme à l'accoutumée des grooves abstraits (un espèce d'orgue sous THC + LSD en filtrage phaserisé), des rythmiques dégueulasses au charme intemporel, le tout baignant dans une atmosphère toujours un peu mystérieuse, pour un rendu vraiment unique !
En conclusion, cette compil qui sortira autour de la mi-octobre est une petite réussite qui devrait très certainement retenir votre attention.
Pour les passionnés de vinyle, voici le détail des sorties. A bon auditeur…
smallville 14:
A. Dimi Angelis & Jeroen Search – Our Live with the Wave
B. Lowtec – meandyou.dub
smallville 15:
A. Move D & Benjamin Brunn – In the Beginning
B. Lawrence – Don't Forget
smallville 16:
A. Sven Tasnadi – Winter
B. Christopher Rau – Childhood
smallville 17:
A. STL – Neurotransmitting Clouds on the Secret Freeway
B. Julius Steinhoff – Something Like Wonderful