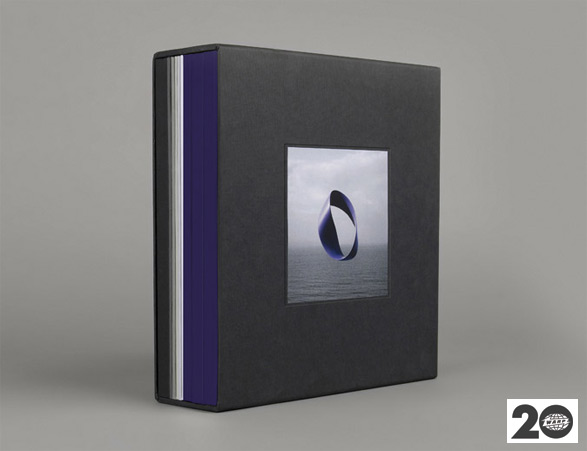 Cela ne vous aura peut-être pas échappé : le légendaire label Warp fête ses 20 ans d'activisme cette année. Pour célébrer l'évènement, la structure pionnière en matière de musiques électroniques (Aphex Twin, Boards of Canada, Autechre, Prefuse 73, Clark et j'en passe, vous les connaissez déjà), mais aussi folk et rock (Battles, Gravenhurst, Maxïmo Park…) associée à des univers visuels forts et des clips marquants une génération (exemple au hasard : Windowlicker de Richard D. James réalisé par Chris Cunningham), a décidé à la fois de proposer en 2009 une série de concerts à travers le monde (dont Paris au mois de mai dernier), et parallèlement de sortir un coffret regroupant cds, vinyles, et ouvrage compilant tous les cover-art du catalogue parus au long de ces deux décennies (putain 20 ans déjà !).
A quoi ressemblera cette box « ultime » (et incontournable) qui sortira le 21 septembre ? Éléments de réponse autour d'une petite description commentée de l'objet.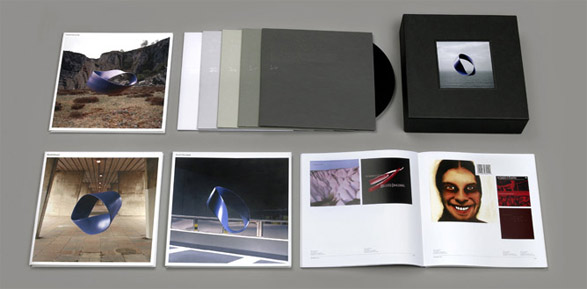 Le coffret se compose de six parties au format vinyle 10″. On y découvre :
– le catalogue comprenant l'intégral des pochettes de disques du label
– un double-cd compilé par les fans & Steve Beckett (le co-fondateur de Warp)
– un double-cd de reprises
– un triple-vinyle d'inédits
– un cd contenant un mash-up géant d'une heure de titres issus du catalogue
– un double-vinyle de loops
The complete catalogue / 1989-2009 (book)

Pour commencer, cet ouvrage regroupe en 192 pages les 400 pochettes de disques qu'a sorti Warp depuis ses débuts jusqu'en août 2009. On y retrouve entre autre les travaux des (défunts) Designers Republic, de Julian House, Build, Universal Everything ou encore Kim Hiorthøy.
Chosen (2 cds)
Les deux tracklistings de Chosen ont été sélectionnés d'un côté par un classement effectué par des fans sur Internet durant l'année (cd1) et de l'autre par Steve Beckett, le co-fondateur de Warp (cd2) :

Cd1 (chosen by online voting) :
01 Aphex Twin: "Windowlicker"
02 Boards of Canada: "Roygbiv"
03 Squarepusher: "My Red Hot Car"
04 Battles: "Atlas"
05 LFO: "LFO (Leeds Warehouse Mix)"
06 Plaid: "Eyen"
07 Luke Vibert: "I Love Acid"
08 Autechre: "Gantz Graf"
09 Jimmy Edgar: "I Wanna Be Your STD"
10 Clark: "Herzog"
Cd2 (chosen by Steve Beckett) :
01 Broadcast: "Tender Buttons"
02 Squarepusher: "My Sound"
03 Boards of Canada: "Amo Bishop Roden"
04 Battles: "Race: Out"
05 Flying Lotus: "GNG BNG"
06 Black Dog Productions – Xeper: "Carceres Ex Novum"
07 Nightmares on Wax: "I'm for Real"
08 Mike Ink: "Paroles (Original)"
09 Aphex Twin: "Bucephalus Bouncing Ball"
10 Jamie Lidell: "Daddy's Car"
11 Squarepusher/AFX: "Freeman Hardy & Willis Acid"
12 Seefeel: "Spangle"
13 Autechre: "Drane"
Recreated (2 cds)
Recreated est une double compilation d'inédits, regroupant des reprises purement acoustiques ou électroniques-acoustiques entres artistes de la maison :

Cd1 :
01 Born Ruffians: "Milkman/To Cure a Weakling Child" (Aphex Twin cover)
02 Jimi Tenor: "Japanese Electronics" (Elecktroids cover)
03 Tim Exile: "A Little Bit More" (Jamie Lidell cover)
04 Rustie: "Midnight Drive" (Elecktroids cover)
05 Luke Vibert: "LFO" (LFO cover)
06 Autechre: "What Is House? (LFO Remix)" (LFO cover)
07 Russell Haswell: "Cabasa Cabasa" (Wild Planet cover)
08 Clark: "So Malleable" (Milanese cover)
09 Diamond Watch Wrists: "Fool in Rain" (Pivot cover)
10 Hudson Mohawke ft. Wensday Night: "Paint the Stars " (Jimi Tenor cover)
Cd2 :
01 Mark Pritchard: "3/4 Heart" (Balil – Black Dog Productions cover)
02 Boards of Canada: "In a Beautiful Place Out in the Country" (Mira Calix With Oliver Coates cover)
03 Pivot: "Colorado" (Grizzly Bear cover)
04 Bibio: "Kaini Industries" (Boards of Canada cover)
05 Jamie Lidell: "Little Brother" (Grizzly Bear cover)
06 Leila: "Vordhosbn" (Aphex Twin cover)
07 John Callaghan: "Phylactery" (based on Autechre's "Tilapia")
08 Gravenhurst: "I Found the F" (Broadcast cover)
09 Plaid: "On My Bus" (Plone cover)
10 Seefeel: "Acrobat' (Maximo Park cover)
Unheard (3×10″)
Encore du nouveau avec le pack Unheard (le bien-nomé) qui propose cette fois-ci des compositions originales en provenance d'artistes phares :

10″ 1 :
A1 Boards of Canada: "Seven Forty Seven"
B1 Autechre: "Oval Moon (IBC mx)"
B2 Clark: "Rattlesnake"
10″ 2 :
A1 Plaid: "Dett"
A2 Elecktroids: "Elecktroids Bonus Circuit"
B1 Flying Lotus: "Tronix"
B2 Nightmares on Wax: "Biofeedback Dub"
10″ 3 :
A1 Plaid: "Sam Lac Run"
A2 Nightmares on Wax: "Mega Donutz Dub"
B1 Broadcast: "Sixty Forty"
B2 Seefeel: "As Link"
Elemental (cd)
Elemental est un mix géant d'une heure réalisé par Osymyso (pardon Osymyqui ?) à partir de samples, d'extraits, de fragments de titres du catalogue parus depuis 20 ans. Une sorte de mash-up bastard-electronic(a), plutôt tonique et éclectique.
Infinite (2×10″)
Enfin Infinite propose sur quatre faces des loops en locked-groove, pour le plaisir du mixage à l'ancienne dont nous sommes encore friands par ici !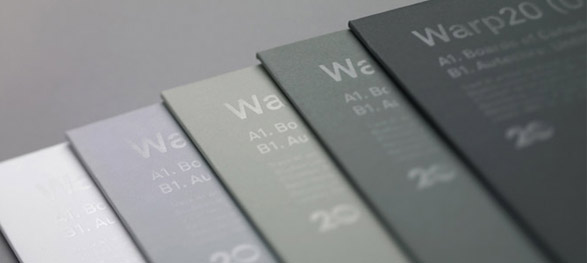 Et après ? On espère, pour les fans de musiques électroniques dont nous faisons avant tout partis, que Warp saura réorienter son catalogue avec de prochaines signatures affiliées à ce domaine. Car en effet si les années 90 ont été dédiées à l'expérimentation, l'electronica, l'IDM ou l'intelligent-techno, la seconde décennie (coïncidant quasiment avec le décès de l'un des deux fondateurs Rob Mitchell ainsi qu'au déménagement des bureaux du siège historique de Sheffield au milieu plus hype de Londres) s'est poursuivie sur un registre nettement plus rock, laissant souvent perplexes les amateurs des premières heures, tout en continuant d'attirer un nouveau public.
Personnellement je trouve sympa qu'un album de Gravenhurst ou Bibio sorte sur Warp. Ce sont des disques intéressants, mais au final ce n'est pas ce que j'attends d'un label comme celui-là. Il y a tellement d'autres structures pour accueillir ce genre de groupes et à contrario tellement peu de labels ayant une portée si puissante pour mettre en avant des projets électroniques barrés, que je trouve vraiment dommage de toujours laisser autant de place au rock et ses dérivés, alors que la marge de diffusion est tellement plus réduite (euphémisme) au niveau des musiques électroniques dans notre monde médiatique.
Heureusement, les dernières sorties montrent un regain d'intérêt pour nos genres préférés avec de nouveaux locataires qui secouent un peu le cocotier électronique comme Flying Lotus (hip-hop expérimental et d(e/a)nse, dans la continuité de Prefuse 73), Hudson Mohawke ou Rustie (plus proches d'un dubstep futuriste) ou encore Tim Exile et sa touche pop-electronicalactique (qui a l'air également assez impressionnant en live). Bref, on espère que Warp réinvestira peu à peu le dance-floor et le Club (délaissé durant les années 2000) par la voie de ces nouveaux venus (liste non-exhaustive, on le souhaite), et que les années 10 lèveront le voile sur de nouvelles facettes de la dance-music, toujours plus excitantes et avant-gardistes. Définitivement, We Are (not) Reasonable People.
La box est d'ores et déjà disponible en prévente au prix de 120 € (+ 10 € de frais de port pour la France) chez Bleep.