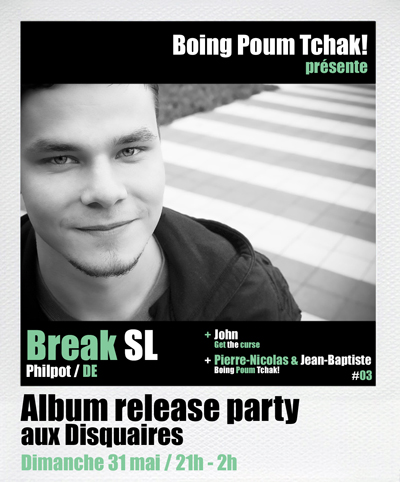 3, 2, 1, prêts ? Party ! Dimanche 31 mai (veille du lundi de Pentecôte, donc férié), Boing Poum Tchak! organise sa troisième soirée officielle aux Disquaires. Pour l'occasion, nous recevons une jeune pousse talentueuse défrichée entre Berlin et la frontière Tchèque : Sebastian Lohse aka Break SL !
Repéré dès son premier maxi Trombone en 2007 sur le label réputé Philpot (dirigé par Jackmate / Soulfiction), le jeune Sebastian (la petite vingtaine palpitante) poursuivra tranquillement mais surement en imposant son style sur son deuxième maxi Laguna seca début 2008, notamment grâce au titre Witness (qui se nome en réalité Be strong, la faute à une inversion du tracklist sur le sticker), avant de revenir cette année avec son premier album City wasteland, sorti aujourd'hui même en ce jeudi de l'Ascension.
Avant de retrouver une petite sélection de ses précedents travaux, voici un lien vers son interview réalisée sur Boing Poum Tchak! l'été dernier, ainsi que son podcast produit dans la foulée. Car Sebastian est aussi un excellent dj imprégné de House / Detroit-House / Slow-House. Jugez-en par vous-même :
[Break SL- bptchk! 005]
Tracklist :

Madteo – Room 1 (morphine)
Kassem Mosse – B1 (workshop)
Iken – Close range (real soon)
Theo Parrish – You forgot (sound signature)
Heiko Laux – Ornamented licks (kanzleramt)
Unknown Artist– Skit (firecracker)
Move D – Crashed jazz  (uzuri)
Kern – Night train (myspace.com/DKKERN)
Tin Man – Falling acid (key of life)
Jackmate – Male kicks (philpot)
Brothers' Vibe – BV anthem (deep vibes)
Break SL – Witness (philpot)
Master C & J – In The city – Devil mix (trax)
Kai Alcé – Sa K' Pase (track mode)
Newworldaquarium – Kirana's lament (nwaq)
Osborne – Ruling (spectral sound)
Frank West – Keep it coming (sin & soul)
Instinct – Just a feeling (decisive)
Jason Fine – Midwest a (fxhe)
Aroy Dee – Glow (m>o>s)
Discographie :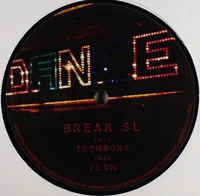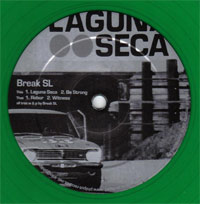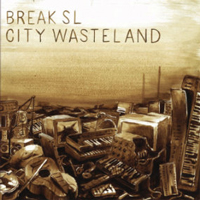 2009
City wasteland – ep + lp (philpot)


Review du maxi Laguna Seca sur Resident Advisor :
http://www.residentadvisor.net/review-view.aspx?id=5096
Envie de retrouver cette ambiance house-friendly sur une piste de danse ? Alors rendez-vous dimanche 31 mai à partir de 21h aux Disquaires, avec Break SL, Pierre-Nicolas & Jean-Bapiste, et John de Get The Curse !
See you there !