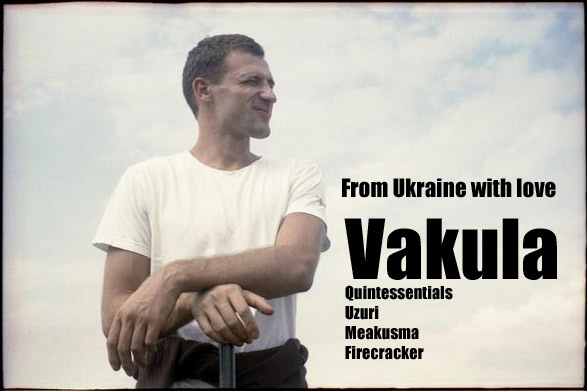 Who could imagine that one of the best innovative house / detroit-house sound of the moment comes from East-Europe ? After Russian Anton Zap, let me introduce you Vakula, Ukrainian electronic artist who has signed some experimental warm & groovy underground-house tracks on Uzuri, then Quintessentials, Meakusma, before releasing a record on Firecracker in 2009. Find out more about him, his thoughts on electronic music in Ukraine while listening the mix he did for Boing Poum Tchak! with only unreleased material from him. Vashe zdo´rovye !
I can only tell that in Ukrainian clubs they play commercial music, music without any deep thoughts. There are very few people in Ukrainian club culture who are trying to create something innovative, something different.

Vakula

Special thanks to Anna Iarotska for this excellent translation, for her time and kindness, and Fabienne who has made the connection between us. Great job girls !
English version
Who are you ?
I do not have any special education. So I don't have any diploma, but I have worked in absolutely different places and performed various kind of work: from construction site worker to the deputy director of restaurant. All what I can do now, I have learnt through my life and an uneducated youth. It is connected with my childhood, I didn't want to study. Instead of sitting and listening attentively to to the teacher I examined the nature from a window of a school class. Kept getting lost in my dreams. In my head there was a never ending flow of thoughts which were difficult and unclear to me at that age, but I couldn't stop it. Because of this my parents did not understand me, the same with my friends from neighborhood.
When I became a bit more older, have understood that without education it will be very difficult to live in this world, and especially in Ukraine where there are practically no human rights. The government of Ukraine does not care of its people. Then I have decided to go to a technical school, I wanted to learn how to sew clothes. But I failed the enter examinations for free of charge education…. I had working class family and my parents couldn't afford paying for my education.
Further I can tell you a lot about how with 16 years I left my parents' house, left small city Konotop and went to a big Kiev and later on to Moscow to earn money for education, but it will take too much your precious time.
What did you listen when you were young ?
Unfortunately I have not grown up in black quarter where everyone knew name Marvin Gaye, Minnie Repperton, Roberta Flack, and not somewhere in Europe where every 100-th man could listen to the music of Steve Reich. In my native city it was very difficult to find good music at the time of my youth. We were looking forward to everything what arrived from the outer world thanks to rare visits of our older brothers to bigger cities, and copied music on cassettes. At the age of 9 I fall in love with disco music, but not that disco music you could imagine. For us a disco were such groups as Boney M and ABBA. Later on appeared pop electronic, technotronic, snap etc. With time I began to listen to hip-hop from Run DMC, Grand Master Flash, Digable Planets, but in our city then was no concept of HIP-HOP, we called it RAP. In the middle of 90s I started to like the group ORB and similar music. Music of ORB reflected my mood/spirit in 90s. I was very much interested in the psychedelic component of their music. One can say that because of ORB I discovered for myself Steve Reich and Terry Riley later.
How did you discover electronic music ?
1997 with a friend of mine we went to visit his friend. In the apartment of his friend a strange music was playing. I have asked the guy what was playing. He answered with a smile "It's "Kraftwerk", don't you know them??"
After his words I felt ashamed: he was saying this name so confidently as if he knew this group since always.
Being very much impressed I came home and called my friend in Moscow to ask him to get me this music… And at the end of tha month I had to explain my parents why phone bill was so big…. Although at those time we were one big country " Soviet Union ", negotiations/talks between two countries used to be very expensive and are not least expensive now for common people…
What kind of music people listen to in Ukraine ?
In Ukraine there are three types of people. 50 % from them like to listen to music like chanson with texts telling about difficulties of life in prison. Songs in which the singer is constantly complaining how hard life is. Meaning of such songs is usually negative. 40 % of people listen to Russian/Ukrainian pop music. I do not understand this music either. And 10 % listen more serious music. These ten percent include fans of totally different styles starting from jazz up to electronics.
What the club scene in Ukraine looks like ? What's your point of view about it?
I go seldom to Ukrainian clubs as far as one third of my life I spent in Moscow. I can only tell that in Ukrainian clubs they play commercial music, music without any deep thoughts. There are very few people in Ukrainian club culture who are trying to create something innovative, something different.
I know only rumours which say that the pro-European Ukraine people feel music and understand it better. And I know by myself for sure, that the main part of interesting people in Ukraine come from pro-European part of the country.
When did you start composing ?
Actually I never though about myself that I'm a musician. If I am not wrong, at the end of 2002 in a musical shop "Дискоксид" in Moscow I met a guy. His name like mine was Mikhail. We were buying there together vinyl records. This person influenced me by showing me the musical computer program REASON. It seemed to be interesting to me. At that time I had no computer and didn't even know how to handle a computer. But Mikhail having seen my interest left me his laptop so that I could study this program… And for days I was sitting sat at the laptop creating interesting sounds.8-))) I am very grateful to Mikhail for that. I can say, he was my sensei.
A year later in Moscow I met Alexey Stratonov aka Seldom and together with him we created the project with the name "Casual Undeground". At this time we were interested in the deep sound of techno music and tried to express own depth by means of analogue sounds.
Two years ago Vakula was born. During my trip home I visited a small city of Putivl, it is near Konotop. Putivl inspired me, and there I understood how much I love Ukraine. Places there are very historical, full of secrets of the past. Inspired by this trip I had a desire to create a national hero Vakula, like in old Ukrainian fairy tales.
What's a good definition of your sound ?
Noise and confusion 8)). I Think, my music is a fixing of certain thoughts which lasts to the end of the sound.
Who are your "godfathers" ?
My grandfather was a skilful bandura player. In my childhood he used to set us around himself to sing the next verse written by our national Ukrainian hero Taras Shevchenko.
Now I am inspired by music of mid 60s, 70s and beginning of 80s.
How do you work on your tracks ?
When I lived in Moscow, we used to gather in the apartment of my friend and recorder our experiences on a tape delay or Akai 2000. We used the Soviet analogue synthesizers, a bass guitar and were looking for harmonies needed by pressing various chords 8).
We used to go out to the centre of Moscow and recorder surrounding sounds. During the inspiration moments it is important for me to concentrate, otherwise it won't work 8).
Now I have transported a part of my equipment to Konotop and temporarily work in the private house of my parents and with help of my nephews I'm working on new loops. 8).
How was the connection between Uzuri, Meakusma, then Quintessential ?
I know only that they are in contact with each other. They are different people from different countries. Probably they have a common goal. I love these people that they try to keep vinyl manufacture/production alive.
What's your projects for 2009 (records / djing / live…)
In 2009 there will be two or three releases from Vakula, one of them, I hope, will come out this spring. Also I plan to collect group for live performances, but probably it will last longer, up to 2010. And of course I will continue to do dj-sets in the Moscow club "Propaganda".

What is your biggest dream ?
To collect studio equipped with a maximum quantity of musical analogue instruments and to twist handles for hours without a break 8).
How did you work on the mix for Boing Poum Tchak ! ?
While answering your questions I listened several times Ash Ra Tempel "Eloquentes wiesel" and decided to give away a mix of several unpublished works. Maybe it will be slightly different from your expectations 8-). But I do compilation of my tracks for the first time in my life. And I feel a little bit excited. Please do not judge strictly, I'm just learning.
A last word to say ?
Be happy, people! 8).
—
Russian version
Хто Ви є за професiєю?
И вот сейчас пострадает моя репутация ;-). Только не смейтесь надомной ;-).
У меня нет специального образования. То есть я не владею каким-либо
дипломом, но работал в совершенно разных местах и выполнял
разнообразную работу, от разнорабочего на стройках больших городов до
заместителя директора ресторана.
Все чем я владею сейчас, научила меня жизнь – необразованная молодость.
Это связано с моим детством, мне не хотелось учиться. Вместо того
чтобы сидеть и внимательно слушать учителя я разглядывал природу из
окна школьного класса.Мечтал и снова мечтал.
В моей голове длился бесконечный полет мыслей сложно понятных мне в
том возрасте и я не мог остановить это. Родители не понимали меня за это, мои друзья со двора так же.
Когда я стал немного старше, понял, что без образования очень сложно
будет жить в этом мире, а особенно в Украине где
человеческие права практически отсутствуют.Правительство Украины не
заботится о своем народе.
Тогда я решил поступить в техникум, чтобы научиться там шить одежду,
но к сожалению я провалился на экзаменах а
поступать на платной основе у меня не было денег. Вырос я в простой
семья и поэтому родители не могли себе позволить оплатить мое обучение.
Дальше можно много рассказывать о том как мне пришлось в шестнадцать
лет уехать из дома, меленького города Конотоп, в большой Киев и позже
в Москву , чтобы заработать на свое обучение, но это отнимет много
вашего драгоценного времени.
Яку музику Ви слухали в часи Вашої юностi?
К сожалению я вырос не в черном квартале где каждый второй знал имя
Marvin Gay, Minnie Repperton, Roberta Flac.., и не в районе Европы,
где каждый сотый мог слышать музыку Steve Reich.
В родном городе было очень сложно достать музыку во времена моей
юности. Мы радоволись тому, что появлялось из внешнего мира благодаря
редким выездам наших старших братьев в большие города, и переписывали
музыку на кассеты. С девяти лет я полюбил музыку диско, но не то диско
о которым вы могли подумать сейчас. Для нас диско музыкой считались
такие группы как Bony M и ABBA. Позже появилась поп-електроника,
Technotronic, Snap и т.д. Со временем я стал слушать хип-хоп от Run
DMC, Grand MasterFlash, Digable Planets но в нашем городе тогда
понятие HIP–HOP не было, мы все называли эту музыку RAP.В середине
девяностых я увлекся творчеством группы ORB и подобной музыкой.
Музыка группы ORB отражала мое настроение времени 90х.Очень
интересовала меня их психоделичность в музыке.
Можно сказть благодаря группе ORB позже я открыл для себя Steve Reich
и Terry Riley.
Як Ви вiдкрили для себе електронну музику?
1997 год.
Как-то мы пришли в гости с другом к его приятелю в квартире которого
звучала странная музыка в то время для меня.
Я спросил у приятеля,"а что это играет?" и он с улыбкой ответил мне:
'это же "Kraftwerk" ты что не знаешь??' После его слов мне стало
стыдно, уж очень уверенно он произнес имя этой группы, как будто из
пеленок знает о ней.

Вернувшись домой впечатленный услышанным, я позвонил своему приятелю в
Москву с просьбой достать мне эту музыку.
..иии в конце месяца мне пришлось объяснять родителям откуда появился
большой счет на телефонной квитанции.
Хоть мы и были одной большой страной "Советским Союзом", но все равно
переговоры между Украиной и Россией стоили и стоят сейчас дорого для простых людей.
Яку музику слухають люди в Українi?
В Украине есть три типа людей.
50% из них любят слушать музыку в стиле шансон, текст которых
рассказывает о сложности жизни людей за решеткой (в тюрьме)
Музыка в которой певец постоянно плачится как ему тяжело жить. Смысл
подобных песен как правило негативный.
40% слушают отечественную эстраду. Эту музыку я тоже не понимаю.
И 10% слушают уже более серьезную музыку.Именно в эти десять процентов входят разнообразные любители стилей от джаза до электроники.
Як Ви можете описати клубне середовище в Українi?
Редко бываю я в Украинских клубах, так как свою третью часть прожитой
жизни я провел в Москве.
Могу сказать лишь одно, что в Украинских клубах звучит коммерческая
музыка, музыка без глубины мысли.
Есть очень, очень маленькое количество людей, которые пытаются создать в клубах Украины что-то не похожее на все остальное.
Ми знаємо, що Україна дiлиться на двi частини: про-европейську i
про-росiйську. На Bашу думку, чи iснує рiзниця мiж про-европейською i
про-росiйською клубними культурами?
По этому поводу могу вам рассказать только о слухах, в которых
говорят, что в про-европейской Украине люди лучше чувствуют музыку и
больше понимают ее. Точно знаю одно, основная часть интересных групп Украины, это выходцы
про-европейской части страны.
Де Ви почали компонувати?
На самом деле я никогда не представлял себя музыкантом.
Если не ошибаюсь в конце 2002 года в музыкальном магазине "Дискоксид"
в Москве я познакомился с парнем, которого звали так же как и меня
Михаил.Мы покупали там вместе с ним виниловые пластинки.
Именно этот человек повлиял на меня показав музыкальную программу REASON.
Это заинтересовало меня тогда.
На тот момент времени у меня не было компьютера и я даже не знал как
обращаться с ним.
Увидев мой интерес к данному делу Михаил будучи очень добрым человеком
оставил свой ноутбук мне, чтобы я изучал эту программу.
..и сутками я сидел у ноутбука извлекая интересные звуки.8-))) Очень благодарен я Мише за это.Можно сказать он был моим сенсеем.
Через год в Москве я познакомился с Алексеем Стратоновым aka Seldom и
вместе с ним мы создали проект с названием "Casual Undeground".В то
время мы увлекались глубоким звучанием Techno музыки и пытались выразить свою глубину посредством аналоговых звуков.
Два года назад родился Vakula.
Во время моей поездки домой я заехал в маленький город Путивль, это
неподалеку от города Конотоп.
Путивль озарил меня, и там я понял на сколько сильно люблю Украину.
Очень много в этой земле истории, тайны прошлого.
Вдохновленный своей поездкой у меня появилось желание создать
национального героя Vakula, как в старых Украинских сказках.
Як би Ви описали Вашу музику?
Шум и неразбериха 8-))
Думаю, моя музыка это фиксация определенной мысли, которая длится до конца звучания.
Хто є Вашими музикальними наставниками/кумирами?
Мой дед – искусный бандурист.В детстве он усаживал нас вокруг себя,
чтобы спеть очередной стих написанный национальным героем Украины Тарасом Григорьевичем Шевченко.
Сейчас я вдохновляюсь музыкой середины 60-х, 70-х и начала 80-х.
Як Ви працюєте над Вашими треками/пiснями?
Когда я жил в Москве, мы собирались в квартире моего друга и
записывали свои переживания на кассету или tape delay или Akai
2000.Использовали советские аналоговые синтезаторы, басс-гитару и
искали нужные гармонии путем нажатия различных аккордов 8-).Выходили в
центр города Москвы и записывали окружающие звуки.
В моменты вдохновения важно, для меня, сосредоточиться иначе ничего не
получится 8).
Сейчас я перевез часть оборудования в город Конотоп и временно работаю
в частном доме моих родителей и с помощью моих племянников придумываю новые лупы. 8-).
Який звязок iснує мiж Uzuri, Meakusma та Quintessential ?
Знаю только то, что они общаются иногда между собой.
Это разные люди из разных стран.Наверное у них похожая цель.
Люблю этих людей за то, что они пытаются сохранить жизнь винилового производства.
Якi Вашi плани на 2009 рiк (записи/дi-джей виступи/live концерти…)
В 2009 году будет выпущено еще пока два или три релиза от Vakula, один
из них надеюсь увидеть в свету этой весной.
Так же планирую собрать группу для живых выступлений, но возможно это
затянется до 2010 года.
Конечно же буду продолжать выступать в Московском клубе "Propaganda" с ди-джей сэтами.
Ваша заповiтна мрiя?
Собрать студию оборудованную максимальным количеством аналоговых инструментов, и крутить ручки часами напролет 8-).
Як Ви працювали над мiксом для Boing Poum Tchak?!
В процессе ответов на ваши вопросы я несколько раз переслушал Ash Ra
Tempel "Eloquentes wiesel" и решил записать микс
с частью своих неизданных работ.Возможно микс будет несколько
отличатся от ваших ожиданий. 8-).
Впервые в жизни я делаю компиляцию из своих треков.Я волнуюсь не много. Не судите строго, я только учусь.

Що би Ви хотiли сказати наостанок ?
Будьте счастливы люди! 8-).
Myspace :