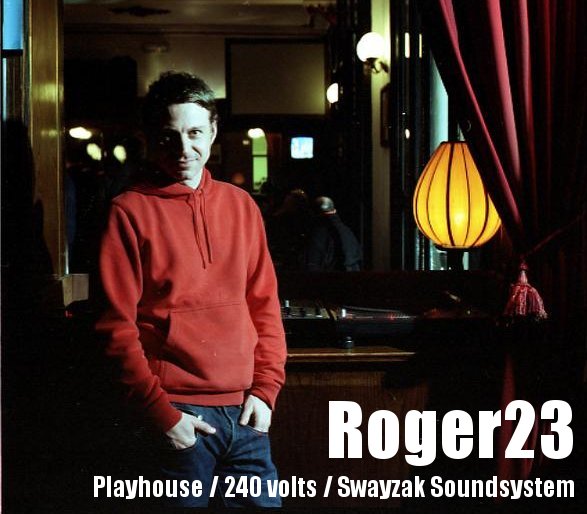 Pure underground dj, music lover, and vinyl addict, Roger Reuter aka Roger23 is the first guest to play at our Party launched in Paris this month. Close friend of Swayzak (he travel a lot around the world with them), former record-shop co-owner, composer who has released eps for Playhouse, 240 volts, Meakusma, it's a pleasure to introduce him if you don't know this artist yet.
It's getting too easy to "release" music right now… I like when things are limited… Too much informations make me sick.
Roger23
How are you Roger ?
Hi, cheers I'm doing pretty good… Quite a bit busy today cause I've tried to finish a mix that I have to do for my agency but I couldn't. Too many technical problems with the records… So I went to the City to buy some records and to meet some friends for coffee too…
How did you fall into music ?
…well, the music thing was always around me, so, I can't really tell you when and why it was… And it's still spinning me around… :-).
What's your definition of a good dj ?
In my mind a good dj is someone who represents a certain taste of music. Creating atmospheres and getting into his music selection.
What do you think about the music released today ? For you is it better nowadays (easier with internet to find what we really want) or less interesting than 10 years ago (because of the increase of poor tracks made by anyone) ?
It's a good question. I definitely like to have a good access to music through discogs or ebay, but if you want to know what I'm thinking of MP3s, forget it, I don't pay attention to that business. It's getting too easy to "release" music right now… It's maybe too much… I like when things are limited… Too much informations make me sick.
What's your point of view about the music industry now, and what do you think about the digital market ?
It's somehow funny how the big music industry destroyed themselves with launching Cds and digital medias on the market. But it has affected the indies too, what feel very bad. Everything is lacking at the moment but it's also time to use this situation in a positive way and to create something new… But it also feels bad that music has lost a lot of cultural aspect in our days through this new medias… I still buy vinyl as much as I can and the offer keep satisfying me !
Clone records (the label not the shop) has recently closed his doors, after 15 years of activity. How do you feel about the future of independent labels ?
It seems like Punk days are coming back. Vinyl is still alive. Small issues from 100 to 500 copies… More DIY characters, which is also quite interesting. But it's more like it's something for collectors and people who take care about their business. They have to keep it as hobby instead of earning some money out of it to pay their bills…
Where do you buy your records ? And do you buy a lot of them ?
Actually I buy my new stuff at Hard Wax in Berlin most via mailorder. Discogs and Ebay are also quite important for me to find the old wanted stuff. But every flew markets, second hand stores or whatever are also welcome. I definitely like to go out and find the record for the day….
What do you like to listen now ?
On my turntable : Bauhaus – 4AD – EP and on my computer runs my new mix for WE LOVE HOUSE, I have to listen under control.
Are you happy to be our guest at the first Boing Poum Tchak! party ?
What a question !!!! Of course I'm happy to come to Paris and to play for you !!!
What will you play Saturday ?
TOP SECRET ! Be there and hope I can satisfy you…  :-).
Your plans for 2009 ? 
Some new records are planned and I hope some gigs coming too… But you might check: www.myspace.com/rogertwentythree and you'll get everything you need… :-).
A last thing to say ?
BUY VINYL !
See You Saturday at le Café Léopard !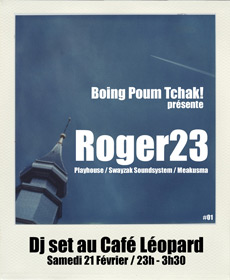 Boing Poum Tchak! présente Roger23
Samedi 21 Février au Café Léopard,
149 boulevard Voltaire / Métro Charonne
23h – 3h30