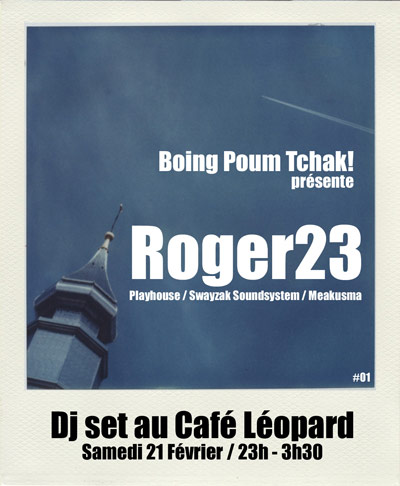 Comme certains l'ont peut-être remarqué depuis peu, un mystérieux flyer s'est incrusté sur ce site (là, dans la colonne de droite) avec l'indication "Boing Poum Tchak! présente Roger23". Il ne s'agit pas d'un mirage. Ce modeste webzine qui officie depuis maintenant quatre ans se lance enfin dans l'aventure des organisations de soirées, avec guests d'exceptions s'il vous plait. Pour notre première party, Jean-Baptiste et moi-même avons le plaisir et l'honneur de recevoir l'un de nos dj préférés (et je pèse mes mots), l'excellent Roger23. Qui est-il, d'où vient-il ? Petite explication de parcours.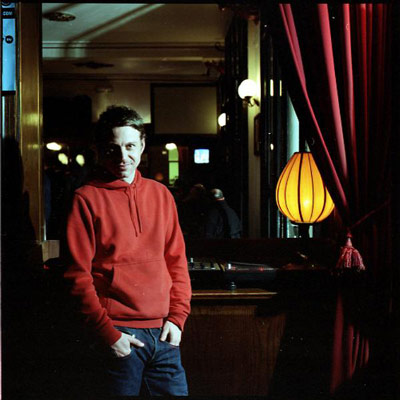 Dans les années 90 Roger Reuter de son vrai nom, tenait une boutique de disques Hard Wax (oui oui comme à Berlin) dans la merveilleuse ville de Saarbrucken (heuu où ça ?) près de la frontière française (ah ok). Roger est ce que l'on appelle un "pur" dj, dans sa recherche inlassable de nouveautés ou de disques rares, partageant un attachement immodéré aux bonnes vieilles valeurs du disque vinyle. Son style ? Pfiouff, difficile à résumer : weird italo-disco, deep techno, new old-school house, tech-house dubby, detroit-house… Du genre "éclectique underground" pour simplifier.
Vous ne le savez peut-être pas, mais il a sorti un mix-cd sur l'excellente compilation/mix Swayzak presents serieculture, en 2006 (avec sur le premier cd des titres inédits de David Brown et James Taylor) avec un tracklisting plutôt éloquant pour l'époque (et qui l'est encore maintenant), qui annonce un peu la couleur, la densité, et la diversité du monsieur. Jugez-en par vous-mêmes :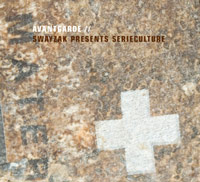 Even Tuell – Pretty Bonita (St. Raiders Mix)
Arovane – Leev (4:33)
Petetok – Hand (Todd Sines Mix)
Jesse Saunders – Funk You Up (Beats)
Napi Hedz Featuring Sachin Chitnis – Raga Paramananda
DJ Jus-Ed – I'm From Connecticut… Bridgeport… Man
Joseph – Love Never Fails (Gods Grace Mix)
Sensory Productions – Deep Introspection
Virgo – Go Wild Rhythm Trax
Blackman – Beat That Bitch With A Bat
Swayzak – Another Way (Darkfarmer Original Mix)
Zweikarakter – My Refresh
Bruno Pronsato – The River
Shockt – Slo-Mo
Schubert – ~[S2]~
D-Man – Hydro 1
Sebo K – Too Hot
Mathew Jonson – Re-Wire
V.a. – Trash I Love
Africans With Mainframes – Save The Robots
J.T.C. – My Muddy Melody
Mais Roger n'est pas seulement un dj hors-pair, garant d'un savoir et d'une culture musicale très vaste, c'est aussi un compositeur talentueux et reconnu, qui a notamment signé deux maxis en 2006 sur Playhouse, ainsi que sur les différents labels de Swayzak, dont Volt Musik et 240 Volts. Swayzak, avec lesquels il a joué dans le monde entier, en les accompagnant sous la bannière Swayzak Soundsystem.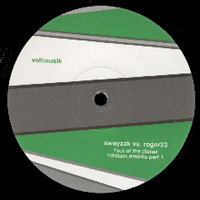 Electronically mine – w/Swayzak (volt musik / 2002)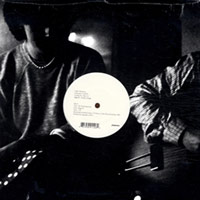 Die Phantomspeisung (playhouse / 2006)
D'ailleurs, comment se sont-ils rencontrés ? L'histoire est cocasse.
David Brown et James Taylor avaient été bookés pour jouer au Time Warp Festival de Saarbrucken en 1998. Un de leurs premiers concerts hors d'Angleterre. Ils arrivent, posent leurs bagages à l'hôtel, et partent se balader dans la ville. Après quelques minutes de marche, et avoir fait un arret au pub irlandais local, ils découvrent un magasin de disque Hard Wax. Serait-ce un mirage ?? Hard Wax ? Ici ? "Mais où sommes-nous tombés !", se demandent-ils. Intrigués, ils décident de rentrer dans la boutique, mais malheureusement le gérant leur annonce en allemand que la boutique ferme dans 5 minutes. Hum ? "Mais il n'est que 4 heures de l'après-midi !" "Please come back tomorrow" leur lance l'homme plutôt pressé. Le duo de Notting Hill (et oui à l'époque les loyers n'étaient pas si élevés) est contraint de s'en aller, non sans offrir au passage, leur nouvel album, un certain Snowboarding in argentina… Le concert arrive le soir, et se passe… mal. Au bout de quelques minutes après le lancement du live, le soundsystem prend feu, pendant que les deux compères jouent devant un public composé d'à peu près… dix personnes.
Le lendemain, les deux boys reviennent au magasin, pendant que Roger écoute et tombe littéralement sous le charme de Snowboarding in argentina. Il choppe quelques disques, et leur fait une petite sélection. David s'approche et pose le premier disque de la box, un certain MMM – Donna, qu'il popularisera quelques années plus tard sur leur génial mix Fabric. Depuis les trois hommes sont devenus amis, et ont encouragé Roger à sortir ses propres morceaux et à collaborer sur d'autres avec eux.
C'est à votre tour maintenant d'entrer dans cette histoire, de partager sa musique, sa vision, son feeling, et son univers personnel incroyablement riche et vibrant.
Rendez-vous le Samedi 21 Février au Café Léopard, 149 boulevard Voltaire / Métro Charonne / à partir de 23 heures, pour vivre un moment vraiment unique et intense.
Le warm-up sera assuré par moi-même et mon compatriote Jean-Baptiste, que vous commencez à connaitre et à apprécier.
See you there,
Pierre-Nicolas
Boing Poum Tchak!