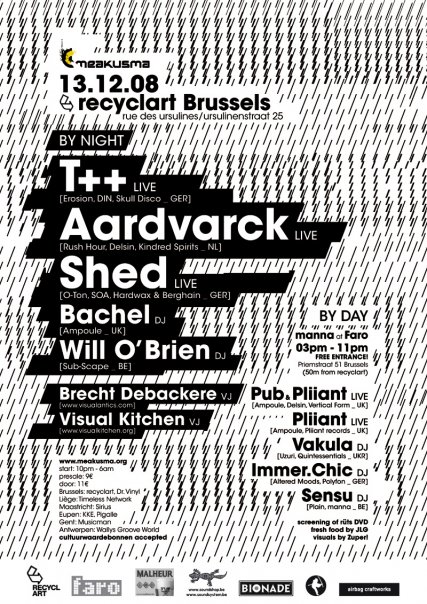 Samedi 13 décembre aura lieu à Bruxelles une énorme soirée organisée par l'association Meakusma qui regroupe passionnés de musiques électroniques, défricheurs de haut-vol et djs. Petite présentation de leur festival, ainsi que de leur jeune label qui vient de sortir trois mini-compilations sur lesquelles on retrouve Roger 23, Even Tuell, Vakula, Terrence Dixon ou encore Move D & Benjamin Brunn.
Brussels in love. Pour les plus téméraires (je parle de nous français) sachez que ze place to be ce week-end, c'est en la capitale du plat pays que ça se passe.
Programmation un peu pointue et complètement fraiche et excitante, orientée techno-electronica sur un mode moderne, la team de Meakusma invite à se produire tout d'abord l'une des révélations de 2008 : le berlinois Shed qui a explosé cette année avec un album très acclamé par la critique "underground", le fameux Shedding the past, sorti sur Ostgut Ton (on vous en a souvent parlé ici). Je ne me rappele pas l'avoir vu déjà jouer à Paris, et peut-être même dans l'hexagone ? C'est donc l'occasion de le découvrir en live, à quelques heures de transport de Paris seulement.
Shed – Boose sweep
Ensuite T++ qui ne vous dit certainement pas grand chose. Et pourtant ! Depuis 2004, Torsten Pröfrock (de son vrai nom) fait parti avec Robert Henke de Monolake ! Il a notamment sorti un remix d'un titre de Marcel Dettmann sur son label MDR. Un genre de Monolake techno-dubstep technologisant et innovant à découvrir là-aussi pour un live inédit.
Enfin le hollandais Aardvarck locataire du label Rush Hour (et Delsin il y a quelques années), pour un son vraiment spécial, différent, un peu bizarre mais très groovant, à l'image de ses séries Cult copy, dont voici la deuxième partie (qui fût remixée par Carl Craig aussi).
Aardvarck – Cult copy 2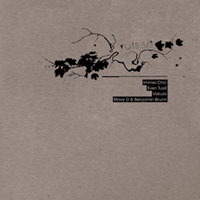 Un petit mot pour terminer sur l'excellent label Meakusma, très prometteur, qui regroupe douze artistes novateurs et talentueux sur les trois mini-various sortis cet automne (avec une petite préférence perso pour la 3° part :-). Plus d'infos sur leur site internet http://www.meakusma.org/
Move D & Benjamin Brunn – Vorhaus
Voici le line-up de la party :
meakusma at Recyclart – 10pm – 6am – 9€ / 11€
Will O´Brien dj 10pm – 1.30am
SUB-SCAPE founder, organiser and resident dj Will O'Brien, originally from Ireland and now based in Belgium, has been buying and spinning records since he first discovered electronic dance music in the late 1980s. Heavily inspired by the deep Detroit techno sound, he incorporates many other influences from electro to acid, house, idm and minimal into his dj sets.
Aardvarck live 1.30am – 2.30am
Together with Steven de Pieven, Aardvarck is part of the Rednose Distrikt Dj-Team which experiments with everything that ranges from broken-beat, leftfield techno, cut-up soul, hip hop or sample-slapstick-jazz. The producer's own material on Delsin Records largely consists of lush, melodic broken beat with the warmth of Detroit techno firmly in mind, while, for his Rushhour releases, he picked up one of his old loves: techno – with the dancefloor monster 'Cult Copy' being the highlight so far.
His latest masterpiece 'Pigstyle' came out as part of the Nod Navigators series on Kindred Spirit featuring 9 cuts of late night, head-nodding excellence.
Shed live 2.30am – 3.30am
After numerous 12"s on Soloaction, Styrax Leaves, Delsin and releases as STP and the mysterious EQD, with the strong post Basic Channel techno release 'Equalized#001', Shed's debut album 'Shedding the Past' has been released end of this summer on the prestigious OstGut imprint, Berghain's very own label. On this album, he melts and merges rough and demanding dance floor skeletons with shockingly detailed melodies, harmonic structures, irresistible hooks and airy arrangements. He will be supporting his debut album live for the first time ever.
T++ live 3.30am – 4.30am
Torsten Pröfrock, aka T++, is the forward-thinking mind behind 12 years of genre shaping and (re)defining techno music out of his base at Hardwax in Berlin. From early appearances on the FatCat label under his Various Artist guise, to dub techno blueprint setting work on Chain Reaction using his Erosion moniker, via proto-dubstep as Dynamo, then onto his role as half of legendary production unit Monolake, Torsten's had an indelible impact on the course of techno and rhythm based electronica.
(Text by SSR/UK)
Bachel 4.30am – End
Bachel's debut release has been released on Talent Hoover last year. Already many years ago, he released a fantastic record on Ampoule as The Actor's Pedantry. When it comes to dj'ing, the passionate record collector Bachel can play in almost every musical context providing a mix of Electro, Techno, House, Electronica and beyond
Brecht Debackere live visuals
Antwerp based Brecht Debackere is a BA in Image & Media Technology and holds an MA in Image Synthesis & Computer Animation. Next to vj'ing, his most recent work and research is concentrated on translating and transforming the cinema concept into other forms like Live Cinema and audiovisual installations.
Visual Kitchen live visuals
Visual Kitchen produces music videos, live shows, commercials and co-organizes audiovisual live events. On an artistic level, Visual Kitchen takes part in the organisation of the Cimatics festival, promotes vj's and collaborates with a variety of progressive musicians.
Address:
Recyclart
Rue des Ursulines 25
1000 Brussels