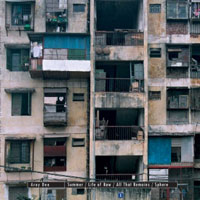 Vous ne le saviez certainement pas, mais à mi-chemin entre Detroit et Chicago se situe Amsterdam, résidence du très discret et néanmoins talentueux Aroy Dee. Comment ça la géographie n'est pas très exacte ? Ok sur une mappemonde peut-être pas, mais sur la carte des musiques électroniques il en est autrement, à l'écoute de son dernier maxi emprunt de deepness légèrement mélancolique qui aurait facilement pu se trouver une place sur Dial.
…tendance deep, raw (brut) et proche de l'esprit originel et mélodique de la techno de Detroit.
Aroy Dee est un artiste en retrait, mais pas pour autant totalement oisif. Boss de la structure M>O>S affiliée au label Delsin, il sort environ un maxi par an, tendance deep, raw (brut) et proche de l'esprit originel et mélodique de la techno de Detroit. Et c'est dans cette tradition qu'il nous propose cette année son petit dernier intitulé Summer.
Composé de cinq superbes titres, ce maxi navigue entre ambiances deep mélancoliques et rythmiques "vintage" façon acid-house 80's (un peu comme celles de James T. Cotton) et techno early 90's. D'abord avec Summer, qui se déploie sur deux versions : "bright" (plus expressif au niveau des drums) et "dark" (rythmiquement plus droit, épuré et techno, avec un accent subtilement trancey).
Puis s'installe une dureté rythmique plus conséquente avec Life of raw. Gros clap, martèlements de toms à répétions et roulement de snares brutaux auquels s'ajoutent quelques sonorités acid qui contrastent avec de grandes nappes ambiant glaçantes et plutôt inquiétantes.
Vient ensuite la douceur âpre du meilleur moment incarné par le morceau All that remains, en collaboration avec Peel Seamus alias Marsel Van Der Wielen, le patron de Delsin. Un titre assez majestueux, composé de belles ambiances fines et délicates, qui a d'ailleurs beaucoup plu à l'un des responsables du label Dial, Lawrence.
Enfin on termine par une outro léthargique, très proche des travaux de Newworldaquarium sous son pseudo 154 pour clore ce Summer, qui annonce malgré lui la fin de notre été.
All that remains
Sortie le 1er octobre 2008