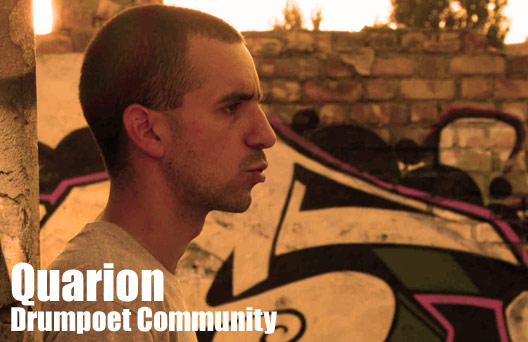 One day before listening the exclusive mix swiss Quarion made for Boing Poum Tchak! let's try to know more about one of most interesting artists of the new deep-house scene. After sweet remixes for Jamie Lloyd ("May I ?"), Agnès and some Ep's for Drumpoet Community, he's simultaneously releasing a new 12″ entitled "The workout" and a remix on Four:Twenty. And it's just the beginning…
We're going back to more "musical" tracks with chords and melodies but keeping the "experimental" aesthetic of "minimal" and I think that's really exciting…
When did you start to buy records ?
I bought my first 45's when I was about 9-10 years old. I was only buying the pop/chart hits that I was hearing in the radio. Then I got seriously into hip-hop when I turned 13, but also digging a lot of Jazz, as I was playing the saxophone. I was buying CD's then, but got into collecting vinyl when I was sixteen. I was buying mostly Hip-Hop and Jazz, often buying 2 copies of a record so I could do the usual Hip-Hop/scratch stuff ;-).
I discovered House around 94/95, basically through Masters At Work. I instantly fell in love with their mixture of jazzy chords and fat beats blended together with great production detail… Then I came across Mood 2 Swing, Kerri Chandler, Deep Dish, Global Communication/Jedi Knights and later the whole Detroit Techno scene. Mad Mike is still a major influence on my work, his records are timeless.
I was also really passionate about Drum n' Bass from 96 to 2000, as I thought it was the ultimate music for me : the complexity of Jazz, the ruffness of Hip-Hop, the deepness of House and the Avant-garde of Techno all rounded together in an incredible genre of music. The funny thing is, I really wasn't into Reggae, but Drum n' Bass opened me up to the wonderful world of dub and its sonic possibilities…
At the beginning of the 21rst Century, Drum n' Bass got too dark and repetitive for me. So I began to follow what was happening in West London with "Broken Beat": 4hero, IG Culture, Bugz in the Attic, Alex Attias… all were making really great moving music, that had a wicked twist to it. There was also a new wave of great House producers coming along at the time : Phil Asher, Dennis Ferrer, Russ Gabriel (doing great Jazzy stuff), etc…
Vibrations
Are you rather mp3s, cds or vinyls ?
I play vinyls and cd's when I DJ. I'm not necessarily against mp3's, although I prefer playing wav's. On a great soundsystem, you can really feel the difference between a wav / aiff and a mp3. I'm not into the Traktor/Serato thing, mostly because I'm spending the whole day behind the computer already and I don't want to do it again when I DJ… or else, I have to do a live act. But even then, I try to look as little as possible at the computer. My aim is to one day make a live set without looking at the computer, like Monolake…
How did you select the records for your Boing Poum Tchak! mix ?
I selected my current favourites as well as a couple of personal classics. And I also had received some new fresh tunes from friends that I wanted to play. I'm always trying out an order before I record a mix, but then I just let it flow and improvise the selection while I'm DJing…
Otherwise I'm now finishing an Ep for Versatile and finally started working on my debut album.
We heard your new Ep on Drumpoet Community (The workout). You're also releasing a remix on Four:Twenty. Can you tell us more about them ?
The new Ep for Drumpoet was a really tough personal challenge for me because it was the follow-up to "Karasu", my first track under the Quarion moniker that received support way beyond my expectations. So I was feeling the pressure to come up with a really good second EP. I tried to do something similar to "Karasu" at the beginning, but I find it hard to recreate the same formula so I decided to go the exact opposite way and came up with "The workout", which is an acid tune with a hip-hop twist. "Vibrations" on the other side, is much more basic and tooly, but I know a lot of people prefer this one to "The workout".
As for the "Four:Twenty" remix, I was really excited to work for them, as I think they're a really good label. So at the same time, I also had the pressure to come up with something good ;-). My remix of "Seaphone" kind of has the same "hands in the air" approach as my remix for Jamie Lloyd, although I think it's quite different. A bit darker somehow…
Class71 – Seaphone – Quarion remix
What do you think about the "revival" of deep-house ?
Of course, I'm really happy about it! I like some of the "minimal" stuff but I can't hear that all night long… Now it's really shifting, a lot of people are playing deep house and digging up old Kerri Chandler tracks for their sets. I think it's really good, although there's a kind of "hype" now about deep house that i find a bit funny. You can tell that certain DJ's play "deeper" stuff because it is the "hot shit" right now, and they will probably play something else in the next years…I personally was always into the deeper side of things whether it was John Coltrane in Jazz, Mood 2 Swing in House, Jay Dee in Hip-Hop, LTJ Bukem in Drum n' Bass or Mad Mike in Techno, I just love when something has depth and is a bit sad. So I know I'll somehow always play and do "deep", even if the genre is not trendy…
What are your forthcoming releases ?
I did a couple of remixes these last months that are coming out between now and September : Andrès Garcia (Connaisseur Supérieur), Jagged (Quintessential), Christian Vance (Perspectiv) and Shaka (Mental Groove). Otherwise I'm now finishing an EP for Versatile and finally started working on my debut album. This will take time.
For you 2008 will be…
I can't predict the future, so I don't know… On a personal level, 2008 has been a mindblowing year so far and I feel blessed to be able to travel and perform in so many various cities…
On a musical level, I think there's some amazing stuff going on at the moment : I love what Agnès, Ripperton, Lexx or Soultourist are doing in Switzerland. And there's blazing new producers like October, Johnny D or Plasmik that are doing wicked stuff… We're going back to more "musical" tracks with chords and melodies but keeping the "experimental" aesthetic of "minimal" and I think that's really exciting…
Find out tomorrow Quarion's exclusive mix for Boing Poum Tchak!