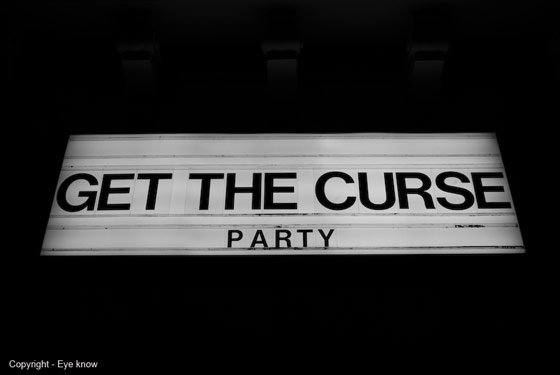 Il aura fallu à peine un an à l'équipe de Get The Curse pour s'imposer parmi les blogs de référence en matière de musiques électroniques. Apprécié pour ses sélections éclectiques et pointues, sa qualité rédactionnelle, et ses soirées très courues (dont la dernière au Bataclan vendredi 25 avril), il était enfin temps de faire le point sur cette aventure avec son fondateur Clément Meyer. La malédiction (the curse) n'a pas fini de nous poursuivre…
Comment est né Get The Curse ? Qui s'est chargé du casting ?
Get The Curse est né de la réunion de trois blogs. On sentait qu'en unissant nos efforts, on aurait l'opportunité de faire quelque chose d'un peu ambitieux. Le casting s'est fait de façon naturelle, je connais Oli depuis quelques années, j'ai rencontré Micky plus tard en soirée. Ed bossait avec moi sur Nightsystem. Quant à Lelo on a discuté au début sur myspace et j'ai flashé sur les posts de son blog. J'ai tout de suite voulu qu'on fasse un truc ensemble.
Peux-tu nous présenter brièvement les membres du cru ?
On est cinq : Mikhail, Olibusta, Lelo, Ed et moi-même. On a tous nos propres obsessions musicales mais à nous cinq il en ressort une certaine cohérence :
– Oli est très influencé par le son de Detroit et la fidget house de Claude Von Stroke.
– Lelo a un gros background rock, il était d'ailleurs programmateur avant. Il est aussi journaliste à Tsugi.
– Mikhail et moi on a un son plus druggy et mental, même si il a aussi cette influence disco qu'il met à profit à travers le label I'm a cliché.
– Je suis un peu plus "rentre dedans" dans mes mixes que lui.
– Ed habite à Londres, c'est un gros passionné de son, en particulier de minimal. Il a des goûts très surs et sort énormément en club.
C'est quoi le but/fonctionnement de ce blog ?
Le but c'est de partager notre passion pour la musique de club "pointue". Ca marche aussi de paire avec les soirées qu'on organise car on est également djs, donc l'un est le prolongement logique de l'autre.
Qu'est-ce qui a été le plus dur à mettre en place ?
Si tu fais les choses bien, en général rien n'est dur, il faut juste avoir de la personnalité et un peu de bon goût.
Ce dont vous êtes le plus fier ?
Peut-être la soirée Get The Curse – One Year – au Bataclan. Un super moment et surtout un bel accomplissement après un an d'existence. Sinon plus généralement, tout les supers feedbacks de la part de gens pour lesquels on a beaucoup de respect que ce soit les journalistes, les programmateurs qui nous font confiance pour nos soirées, les djs et surtout le public qui vient à nos soirées.
Qui est le plus nerd de la bande ?
Difficile à dire. Oli, Mikhail et moi, on communique uniquement par smiley, gif animé et video youtube via msn, donc ça doit se jouer entre nous trois.
Le plus deep ?
Oli parce qu'il aime les belles mélodies qui crèvent le cœur.
Le plus barré ?
Lelo, suffit de lire sa prose.
Le plus druggy ?
Mikhail aux afters de Réda.

Quel bilan tires-tu des nombreuses soirées que vous avez organisé ?
Pour le moment très positif. Il y eu peu de déchets.
Un petit mot sur la soirée au Bataclan ?
Juste excellent. On est hyper fier d'avoir rempli le Bataclan avec une affiche pas forcément évidente. La réaction des gens était géniale. Il y avait une excellente vibe.
Quels sont les projets dans les mois à venir ?
En ce qui me concerne, je suis en train de bosser avec Danton Eeprom sur son label Fondation. Pour le reste, on préfère que nos projets restent secret pour le moment, ça ne sert à rien de parler trop vite. Il vaut mieux d'abord bosser pour les concrétiser. Mais en gros les deux directions actuelles à savoir le site et les soirées vont être amenées à prendre de plus en plus d'importance.
A quand le label Get the Curse Recordings ?
C'est dans l'air du temps mais ce n'est pas non plus pour tout de suite.
L'union fait la force ?
Il paraîtrait oui…
Nb : les photographies ont été captées lors de la soirée au Bataclan par le talentueux électron libre alias Eye Know, que vous pouvez retrouver sur son blog http://eye-know.blogspot.com