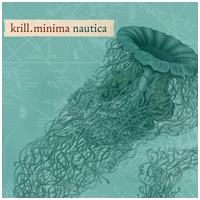 Big blue(s)
krill.minima, c'est le projet de Marsen Jules (Martin Juhls pour l'Etat civil allemand) que l'on a souvent repéré pour ses effluves aquatiques sur des netlabels comme Thinner, Miasmah, Stadtgruen ou encore quelques apparitions chez les lituaniens de Sutemos. On se souvient aussi de son étrange mais néanmoins très bel album Les fleurs, sur City centre offices, enveloppé de cordes en tout genres qui se télescopaient dans un monde aussi vaste et profond que peut l'être le terrain de jeu de Poséidon. Une thématique qui décidément continue de le fasciner puisqu'il nous replonge une fois encore dans cet univers avec ce nouvel album justement intitulé Nautica.
[audio:https://www.boingpoumtchak.com/extraits_audio/krill_minima_submarine_poetry.mp3]
Tel un chant de sirène, on est instantanément happé par un sublime appel au voyage tendre et enivrant dès le premier morceau (Submarine poetry). Puis on descend lentement sur un mode dub-ambiant tantôt granulaire, tantôt plus classique (Nautica, Octopus and sextant) avant d'émerger pour une incroyable ballade sur le dos d'une bande de dauphins baroudeurs : The escargot's dream, qui n'est pas sans évoquer quelques réminiscences du film Le grand bleu. Kalmar évoque quant à lui les trips hallucinatoires des plongeurs en état d'ivresse des profondeurs, qui reviennent progressivement à la réalité avec l'arrivée de The sea horse and the soft coral. Le dernier morceau (Surface from the groundless) évoque enfin la nostalgie de ce monde mystérieux (dont les secrets ne seront certainement jamais totalement percés par l'homme), tandis que l'on s'en éloigne paisiblement. Nautica, un vrai palier de décompression à lui seul.
[audio:https://www.boingpoumtchak.com/extraits_audio/krill_minima-the-escargots-dream.mp3]
Tracklist# :
01 : Submarine poetry
02 : Nautica
03 : Octopus and sextant
04 : The escargot's dream
05 : Princess of the undersea gardens
06 : Kalmar
07 : The sea horse and the soft coral
08 : Surface from the groundless oceans