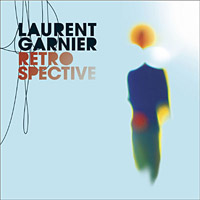 Des années que ça dure. Bien sûr on ne peut résumer l'homme, le dj, l'artiste, tantôt parrain, tantôt "tonton" de la scène électronique française, le passionné, défendeur acharné de la bonne musique, directeur de la prog de nova un temps, patron de label, survivor-dj de toutes les époques, papa, première Victoire de la Musique "dance", introducteur de la house en France, dénicheur de drôles d'oiseaux (Quentin Dupieux était le fils de son garagiste), sa web-radio-pedro-broadcasting-basement, sa prestation cinémix au Louvre, et on en passe…
De la fin des 80's à l'hacienda de « Madchester », en passant par les soirées wake up au rex sur fond de comportement déraisonnable et de machine à fabriquer les nuages, c'est aujourd'hui que Laurent Garnier sort presque dix ans après Early works, Son véritable "Best-of", intitulé sobrement Retrospective.
La sélection de douze années de composition (depuis 1994, point d'ancrage de son label f communications fondé avec Eric Morand) est intelligente, cohérente, non-chronologique et cerne bien son parcours. On y (re)trouve ses morceaux techno, avec le classic Astral dreams toujours aussi bon, le brusque Raw cut période techno-trancey, LE titre (s'il ne fallait en garder qu'un) Crispy bacon et sa montée légendaire, Flashback, mais bizarrement la version clip vidéo, qui perd de son intérêt sans les images, Coloured city, Sambou (face b du maxi The sound of the big babou), son remix d'Alex Attias sur compost, ou encore le "rugissant" Demented en collaboration avec Carl Craig. S'y mélangent ses titres down tempo (très variés), de la flûte traversière du Theme from larry's dub, à la sublime envolé de cordes par Avril pour le remix de Greed (un des meilleurs remix qu'il m'ait été donné d'entendre personnellement), en passant par Barbiturik blues et son long développement absolument jouissif et incroyable. On retrouve enfin, au niveau des inclassables, le métaphysique et arraché (presque animal) Downfall, un de ses morceaux les plus personnels, les très belles versions live de ses standards Acid eiffel et The man with red face, en compagnie de Bugge Wesseltoft, ou encore le lumineux track d'ouverture 6 months earlier qui figera à coup sûr un large sourire sur votre visage.
Enfin, la compil' se clôt sur le Voyage de simone, en référence à l'animatrice Simone Garnier (avec Guy Lux notamment). L'histoire de ce morceau est rigolote. Un jour une nana contacte Laurent pour lui raconter qu'elle n'arrête pas de recevoir plein de démos de mecs qu'elle ne connaît pas et ne comprend pas le pourquoi de la chose. Jusqu'au jour où elle découvre le pot aux roses. Elle s'appelle Lauren Garnier, et les mecs, croyant avoir trouvé l'adresse du big babou dans l'annuaire lui balancent leurs sons sans avoir bien vérifié le prénom du destinataire. Amusé, Garnier (le vrai) décidera de l'inviter (c'est elle que l'on entend) pour enregistrer ce morceau en sorte d'hommage décalé à cette autre dame de la "grande" famille Garnier un peu éloignée.
Bref, si vous n'avez pas (comme moi, et beaucoup d'autres !) déjà tous ces titres, vous pouvez quand même vous procurer ce double disque essentiel, ne serait-ce que pour ses deux inédits live, et pour la force qui se dégage de cette Retrospective : un véritable morceau d'Histoire, de notre Histoire à la française, emmené par celui qui s'est toujours battu pour partager, diffuser, faire découvrir de la musique / des artistes de qualité, et qui a aussi contribué à faire connaître la techno et les musiques électroniques au-delà des milieux underground. « Le grand mix » c'est sa philosophie. On ne le remerciera jamais assez pour toute son œuvre et ce qu'il continue d'amener. Respect.
Theme from larry's dub
6 months earlier