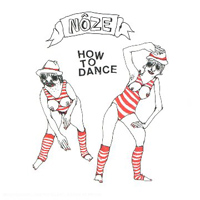 Les Nôze sont de retour, et ça déménage! Pour leur deuxième album, Nicolas Sfintescu et Ezéchiel Pailhès nous livrent ici un How to dance hédoniste / épi-curieux, qui donne avant tout l'envi de ramener ses copines et de monter le son pour démarrer la surprise-party du siècle. La première moitié du disque est placée sous le signe de la franche rigolade (les énooormes Tulipshnaps et Kitchen), sorte de virée surréaliste en compagnie de copains de longue date dans les rues de Prague, après un repas bien arrosé au schnaps et au vin rouge. A cela vient s'entre caler une pointe de tragi-comédie post-soviétique sur un mode absurde (Albert), ou encore une gravité presque parodique sublimée par une petite espièglerie jazz (C). La seconde partie maintient le cap dans un style minimal-house-abstract-groovy toujours aussi barré, mais néanmoins à réserver à un public plus averti. Mention toutefois au dernier morceau qui ravira les freaks de tous bords musicaux (tuba), vibrant sous la guitare crazy-funk d'un invité de prestige parfaitement "dans le ton" : le déjanté Ark.
"I clean my noze, and I'm ready for my love affair"
Bref, How to dance est une sorte de pied de nez pour nous faire danser (pied et nez, vous avez compris ?) ; les Nôze ont snifé juste : de la bonne schnouff pour nos oreilles; les doigts dans le nez ; (ok, on peut continuer toute la nuit à faire des blagues nazes, pardon Nôze…) bon enfin!!, ne vous laissez pas abuser par cette chronique au raz des pâquerettes. Préférez respirer plutôt ce surprenant album blindé de sensations malicieuses, mode d'emploi indispensable pour dynamiter nos prochaines soirées estivales. Tout simplement génial.
Kitchen
Pofamika