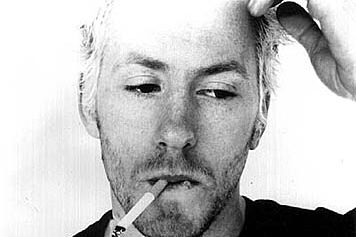 David Holmes née le 14 février à Belfast en Irlande du Nord d'une famille de dix enfants dont il est le benjamin. Adolescent il écoute du punk-rock et devient dj à l'âge de 15 ans en jouant dans les pubs et les clubs aux alentours de sa ville. Pendant quelques années il va découvrir toutes les définitions du groove au-travers le soul jazz, le Modern rock, la Northern Soul et la Disco.
Parallèlement il travaille pour un promoteur de concerts et écrit dans un fanzine quand déboulent les premiers hits house et techno en Angleterre à la fin des années 80. Il commence à s'intéresser à cette nouvelle forme de dance music et l'intègre progressivement dans ses mixes. Le club Sugar Sweet où il est résidant, est le premier à diffuser cette musique nouvelle et moderne dans le nord de l'Irlande et devient la référence du pays. Au cours d'aller et venues entre l'Irlande et l'Angleterre, il fait la connaissance des plus grand djs anglais de l'époque : Andrew Weatherall (qui deviendra la moitié des Two Lone Swordsmen), encore considéré comme un dj (au look retro so british !) de notoriété mondiale, Darren Emerson (qui explosera dans le groupe Underworld avec notamment le tube Born Sleepy signé sur la bande originale du film Trainspotting), et Ashley Beedle dj à la culture musicale énorme, notamment cité sur le « Teachers » des Daft Punk. Après quelques essais studio avec ce dernier, David Holmes enregistre avec lui un des tubes dancefloor qui marquera l'année 1992 : le maxi DeNiro, sous le pseudonyme Disco Evangelists.
L'année suivante, son projet Scubadevils, une collaboration avec Dub Federation, apparaît sur le premier volume des compilations Trance Europe Express. Ce premier avant goût de succès l'amène à entamer une période (1993-1994) de travail assez importante où sortent de son studio des remixes pour le Sabres of Paradise d'Andrew Weatherall, St Etienne, Therapy, Fortran 5, Sandals et Justin Warfield entre autres. 1995 est un tournant dans la carrière de Holmes. Il signe sur le label Go! Discs et réalise son premier album : This Films Crap Lets Slash The Seats (Ce film pue, lacérons les sièges). En dehors du fait que le titre évoque le terrorisme dans les salles de cinéma, l'album suggère d'autres attaches au cinéma. Un des titres est d'ailleurs utilisé dans le film The Game de David Fincher avec Michael Douglas et Sean Pean. Il signe par la suite, en 1997, sa première bande originale de film pour Resurrection Game de Marc Evans.
Cette expérience inspire à David Holmes de voyager à New-York pour y enregistrer son second album personnel, Let's Get Killed, opus très marqué hip-hop, collectionne les prises de sons en pleine rue, les extraits d'interviews et abonde de références cinématographiques, dont il obtiendra le prix du meilleur album Irlandais aux Irish rock Awards de 1997. En 1998 c'est le réalisateur américain Steven Soderbergh lui propose de composer la bande-son (aux couleurs goove-funk) d'une grosse production Hollywoodienne, Out of Sight (Hors d'atteinte). Ce ne sera pas la seule collaboration entre les deux hommes. En 1999 This Flim's Crap, Let's Slash the Seats et réédité avec des bonus et titres inédits.
L'année suivante il signe son troisième album Bow Down to the Exit Sign, et prévoit déjà une nouvelle collaboration avec Soderbergh sur l'un des meilleurs succès au box office américain de ces dernières années : Ocean Eleven avec ses acteurs vedettes (George Clooney, Brad Pitt, Julia Roberts). Bien évidemment il s'occupera aussi de la bande son d'Ocean Twelve, sa suite après avoir composée celle d'Analyze That (Mafia Blues avec Robert DeNiro et Billy Crystal). « J'aime les films les films, les émotions, l'humour et la folie qu'ils recèlent, avait-il déclaré. J'aime qu'ils m'affectent et je crois que cette réaction peut être facilement recréée par la musique ».
Toujours en 2000 il produit l'album de Primal Scream, Exterminator. Il se concentre dorénavant son nouveau projet studio-band, The Free Association dirigé par lui-même et Steve Hilton en 2002, présent sur la compilation de Holmes Come Get it I Got it. Sa dernière production sous The Free Association qu'il semble ne plus quitter est la B.O du film de Michael Winterbottom, Code 46, en 2003.
Initalement paru dans le Batofar magazine