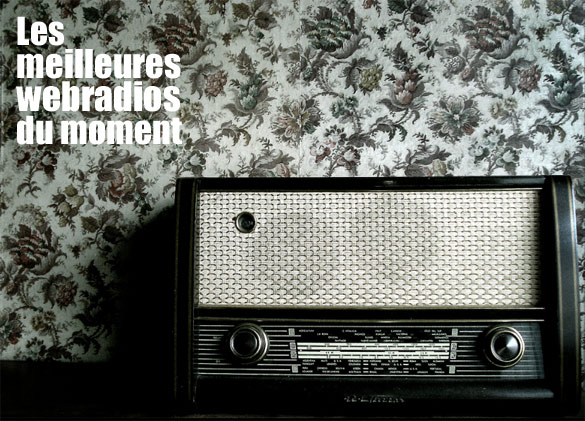 Se repérer dans l'immensité de choix du net en matière de webradios n'est pas chose aisée. Heureusement Boing Poum Tchak! est là et pense à vous en cette période estivale propice à la détente et à la quête d'atmosphères sonores idéales susceptibles d'accompagner vos langoureuses rêveries.
Edit 2022 – La majorité des liens / webradios présentés ici n'existent plus
Il sera proposé dans cette liste une palette de genres assez large, qui permettra à chacun de trouver son bonheur personnalisé. (Bien évidemment sont écartées d'office les webradios à programmations relatives aux foires techno-tuning et autres sonorisations de campings labélisés Flots Bleus / David Guetta).
Lush
On commence très très soft avec du lounge à l'anglaise. "Sensuous and mellow vocals, mostly female, with an electronic influence" (!) indique l'écriteau.
Verdict : Pour les amateurs des compiles Bouddha Bar et Café Del Mar.
L O U N G E – R A D I O . C O M
Ambiance un poil plus distinguée que la précédente. On retrouve en vrac Zero 7, Nova Nova (il y avait longtemps !), Herbalizer, Wagon Cookin, Badmarsh & Shri, Cinematic Orchestra, Jazzanova, Cesaria Evora, Beastie Boys… Parmi une multitude d'inconnus !
Verdict : sympa pour démarrer un apéro convivial.
http://www.lounge-radio.com/listen128.m3u
DI Minimal
Amateurs de minimale allemande vous serez servis ! Avec notemment pas de mal de "Promo mix" et sessions live enregistrées en club ou festival. Du m_nus, Trapez, Villalobos, Hawtin, Eulberg, Adam Beyer, Matt John, au milieu de newcomers.
Verdict : un mixe qui "sautait", la connexion pas franchement super (pas mal d'arrêts et de reprises) pour un son un peu cracra en 96 kbps :-(.
http://www.di.fm/mp3/minimal.pls
Sonic Universe
Jazz et Nu-jazz (électronique). Très sympa et en plus ça donne envie de se cultiver, zapper les JO pour la redif du reportage sur la vie de Schopenhauer sur Arte et d'aller faire semblant de lire du Thomas Pynchon à la terrasse d'un café à St Germain. Hein ? Non faut pas trop déconner non plus, malgré du bon (Laurent Garnier, St-Germain justement, Nils Petter Molvaer, Arve Henriksen…) on trouve aussi des styles composés pour Otis (non pas Redding), Otis les ascenseurs.
Verdict : Allez on ne va pas faire la fine bouche car on trouve en majorité du vrai bon jazz malgré quelques égarements lounge pesants.
http://somafm.com/sonicuniverse.pls
RantRadio Industrial
"Industrial Electronica For Your Mind". Oula qu'est-ce que c'est que ce truc ? A titre personnel je ne connais aucun des artistes playlistés. Je lance. Je tombe sur une musique faite de vocalises féminines irlandaises, ambiance réunion tupperware gothique autour d'une tombe. Le deuxième morceau enchaine sur un mix entre de l'EBM à la Blackstrobe et du Marlyn Manson très noisy.
Verdict : Votre petite sœur néo-goth ne sait pas quoi faire et vous bassine avec son envie de mettre fin à ses jours ? Mettez-là devant cette station, ça devrait la distraire un moment.
http://www.rantmedia.ca/industrial/rr-industrial128.pls
PlusFM
Vous êtes publivor et donc premier à aller googler quand une nouvelle musique entendue lors des réclames vous titille les conduits auditifs ? Alors PlusFM est la radio idéale. Trip-hop "sophistiqué" sympa et branchouille (Air, Apparat, dj Krush, Funkstörung, Neneh Cherry, Radiohead, Mr Scruff, Thievery Corporation, Kid Loco, Photek…) qui saura attiser votre coté "bobo mais pas trop".
Verdict : Des titres parfaits pour l'Ipod vissé sur les oreilles lors de vos trajets quotidiens en Vélib'.
http://www.plusfm.net/plusfm.m3u
Digitalis
Downtempo versant pop indé à la Morr Music (genre Ms John Soda) electronica (Four Tet, Arovane, Xela, B. Fleischmann, Lali Puna, Dntel), classic (Portishead), acoustique (Helios), et blip-hop (Fat Jon & Styrofoam).
Verdict : Tu écoutes Radio Campus toute la journée au bahut mais tu n'arrives plus à capter quand tu arrives chez toi ? Digitalis est LA solution ! Du très très bon.
http://somafm.com/digitalis.pls
Warm FM
Radio plutôt orienté electro-tech/house malgré quelques interludes "assez éclectiques" (Joe Smooth, Moby, Louis Austen, Propellerheads). Si vous étiez fan des sorties Gigolo à la fin des années 90 (période pré electro-clash) alors vous devriez trouver votre bonheur. DK7, Foremost Poets, Depeche Mode, Derrick Carter, Tiga, Petter, LCD Soundsystem, Cassius, Alter Ego…
Verdict : Pour les nostalgiques de l'ère du bug de l'an 2000.
http://stream01.warm.fm:9002/listen.pls
Cliqhop
Ahh… Nouvel incontournable après l'arrêt de Systrum Sistum pour les amoureux d'electronica / ambiant / IDM et autres dérivés clicks'n'cuts barrés ? Certainement si l'on se réfère à l'excellente playliste (Bola, Donato Wharton, Alva Noto, Autechre, Monolake, Aphex Twin, Detroit Escalator Co., Ulrich Schnauss, Dr Rockit, Opiate, Murcof, Isan, Telefon Tel Aviv, Arovane, Boards of Canada…).
Verdict : Il se peut que d'ici les prochaines semaines sur Boing Poum Tchak! vous retrouviez plus d'articles et de reviews sur des sorties electronica… :-)
http://www.somafm.com/cliqhop.pls
En bref :
LiveSets Radio, du site du même nom. Que des mixes plutôt récents, enregistrés lors de prestations club, festival ou radio. On y retrouve des artistes à la mode mais respectables (Monika Kruse, Guido Schneider, Alexander Kowalski, Ellen Allien, Speedy J, Dj Rolando…).
http://stream.livesets.com:8000/listen.pls
Drone Zone : Atmospheric ambient space music. Comme son nom l'indique une pure prog ambiant pointue qui ravira les passionnés du genre ! Pêle-mêle on y croise Biosphere, Gas, William Orbit, Aphex Twin, Brian Eno… Pour se nettoyer un bon coup les neurones !
http://www.somafm.org/dronezone.pls
ENERGY FM. Des classics dance / electronique / disco orienté british. Mais on peut trouver des choses sympas.
http://www.energyfm.info/broadband.pls
BeatBlender. Encore une webradio downtempo / lounge avec des petites excursions dub. Ca se laisse tenter.
http://somafm.org/beatblender.pls
Limbik Frequencies. Blip-hop et electronica up-tempo. Modeselektor, Bochum Welt, Monolake, Cim, Isan, LFO, Lusine, Kettel, Pan Sonic, Casino Versus Japan… Recommandé.
http://205.188.215.225:8018/listen.pls
# D N B R A D I O. Drum'n'bass et dérivés jungle, ragga, abstract hip-hop. Yesss !
http://www.dnbradio.com/hi.pls
BlastFM.ch On termine dans la même veine avec une webradio électronique aux accents 100 % dubby ! Check it out too !
http://www.blastfm.ch/live/128.m3u
Bonne écoute !